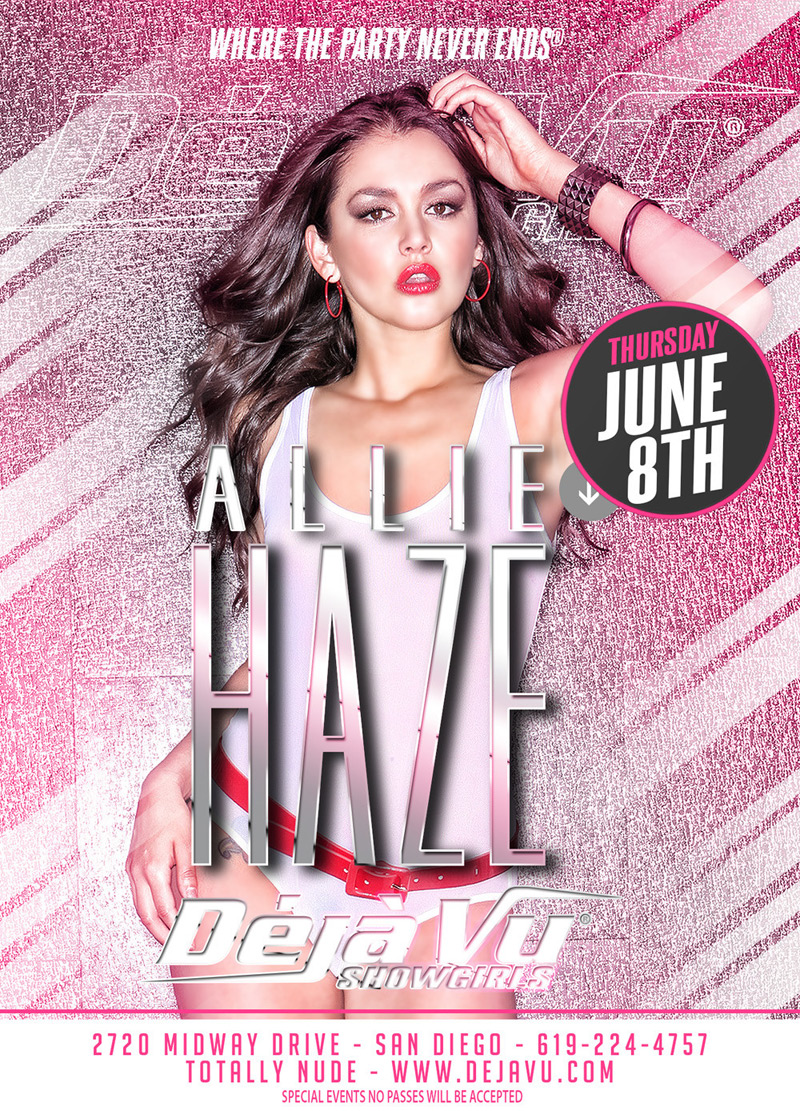 Get excited people, because adult superstar Allie Haze will be feature dancing at Deja Vu Gentlemen's Club in San Diego CA for one night only, on Thursday June 8th, 2017.
After her stint in SD, Allie is crossing the border and making her way to Deja Vu Gentlemen's Club in Tijuana Mexico, where she will be performing on Friday June 9th and Saturday June 10th, 2017.
Allie Haze will be performing three shows nightly. Between shows she will be mingling with the guests, taking photos and doing lap dances. "I can't wait to rock the stage at Deja Vu Gentlemen's Club and party with my fans!" says Haze. These shows will definitely be standing room only – so make sure to get there early.
Any Navy town worth its salts boasts an assortment of showbars, and San Diego is blessed with many.. But Deja Vu San Diego easily surpasses all the competition with its plush surroundings and first-class trappings. The club is located at 2720 Midway Drive, San Diego, CA 92110. Call 619-224-4757 for more info.
Deja Vu Tijuana is the largest strip club in the world, with over 100,000 square feet of adult entertainment and luxury "full-service" spa suites. The club is located only two minutes from the border, and Deja Vu offers free shuttle service to/from SD. Deja Vu Tijuana is located at Pueblo Amigo Via Oriente 9211, Tijuana, BC 22320.
Allie Haze is one of the hottest porn stars in the industry, and she puts on one hell of a stage show. So if you are looking to heat things up this weekend, make sure you come out and show her some love!