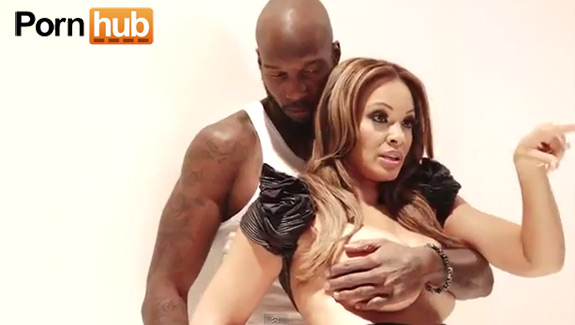 So here we are again. Chad Johnson aka Chad Ochocinco is out of a job and has had his VH1 reality show cancelled for reasons that we're all now aware of.
Pornhub.com, the premier destination for online adult entertainment, has decided to lend a hand once more and help take some of the pressure off Johnson's shoulders, as well as play mediator between him and his wife.
Their new proposal for him seeks to have him and the gorgeous Evelyn Lozada perform in a "makeup" sex video exclusively for Pornhub, for which they'll compensate the couple $100K – Hey, Johnson always said he'd gladly go into porn if he really needed to, and it looks like there's no better time to start!
No word yet from his team about PornHub's latest offer.
Check out the full offer letter below:

---
August 14, 2012
Dear Mr. Johnson,
I hope this letter finds you well. First off, we would like to applaud you on the name change – although it's not the one we initially had in mind as you might well remember.
Allow me to get down to the real reason I am reaching out to you on behalf of our company, Pornhub.com (the premier destination for online adult entertainment). Your recent misfortunes have caught our eye, and while we regret to learn about the hard luck that's come your way, we would once again like to lend you a helping hand in your time of need.
In short, we are extending an offer to you and your beautiful wife Evelyn to create a "makeup" sex video exclusively for use on our site. As proof of your participation in the video, we would simply need you to film an introductory scene in which you and your wife state your names and intents for the camera. Once again, we believe that this partnership would truly be beneficial for both parties.
In return for your willingness to cooperate, we will gladly compensate you to the tune of $100,000.
Again, we truly appreciate your consideration of our offer and look forward to the possibility of working together soon.
All the best,
Corey Price