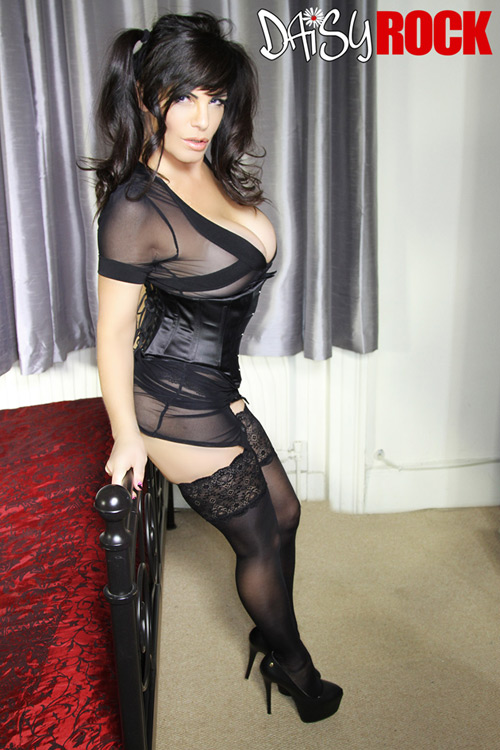 Top British adult star Daisy Rock is set to make UK XXX history with the launch of her new live streaming member's site Your247Pornstar.com. The sex screen siren will grant cameras 24/7 access to her quaint home in seaside Brighton, UK and treat viewers to every intimate detail in her life, from steamy solo showers to one night stands to explicit sex parties with her hot swinger friends. With cameras constantly streaming a live feed, virtually anything can happen. Daisy is known for being one of England's most outrageous sex stars and will take her notoriety to the next level with Your247Pornstar.com.
Daisy is kicking off the website with a free to view hardcore launch party on Wednesday February 19th at 10pm (GMT). England's hottest adult stars will be in attendance for a hardcore night of debauchery, including Daisy Rock, Princess Paris, Angel Love, Luke Hotrod, Victoria Summers, Antonio Black, Carla Mai, Kimmy Cumlot, and Trashmeister.
More info on the free night launch party can be found on the Your247Pornstar.com website, with updates posted via Daisy Rock's Twitter.
"I'm so excited to debut Your247Pornstar.com!" Daisy said. "It's the first website of it's kind and I think fans will enjoy having me as their "virtual girlfriend" who they can always check in and see what I'm getting up to. Of course they'll also get to see a ton of exclusive adult footage such as when I'm filming my adult series for Paradise Films this year. They're going to love it!"
All of the content for Your247Pornstar.com will be shot in quality high definition, for repeated viewings. Fans will never miss any of the spontaneous sex or hardcore hook-ups as well as have the ability to re-watch and rewind their favorite moments.
In addition to a launch party, Daisy plans to host fan contests and giveaways. Your247Pornstar.com looks to pride itself on interactivity, building a community with its online members, not only in the UK but across the globe.
Erotic UK babe Daisy Rock wants you to watch her every XXX move with the debut of her 24/7 all-access member's site, Your247Pornstar.com!