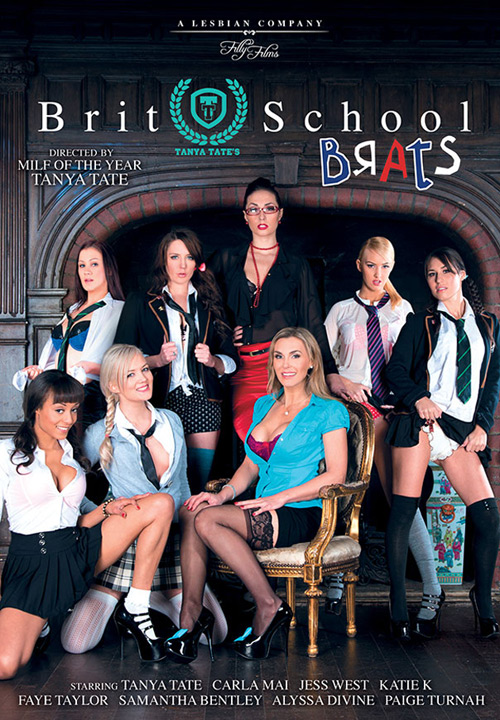 I knew I was in for a real treat with Tanya Tate's Brit School Brats, because it combines three of my favorite things: British girls, schoolgirls, and lesbians.
In Brit School Brats, busty MILF Tanya Tate returns to England to take her naughty niece Samantha Bentley to the London Filly Finishing School to learn to act like a lady. Will Tanya be leaving her niece to become the perfect lady or will the girls be running wild? As you'll see, it's quite the latter.
The movie starts out with strict headmistress Paige Turnah teaching teen Alyssa Divine a lesson by spanking her over the desk for breaking school rules. Why couldn't my principal look like her?!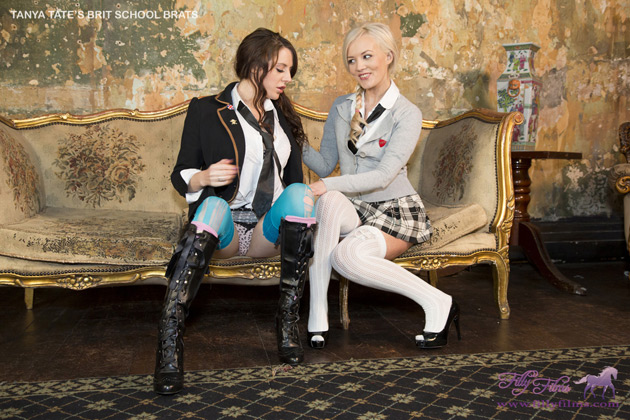 The next scene was one of my favorites on the disc. Barely legal Faye Taylor gives Samantha a welcome to remember, with Auntie Tanya joining in for a hot threesome. The plot for this scene is a little flimsy (If I eat your pussy, maybe I'll get expelled), but just go with it, because the action here is hot and heavy. These two teens are fucking hot, and watching Samantha rides Faye's face was a thing of beauty! Heck, Tanya gets so turned on by the action she walks in on that she can't help but jump into the mix. H-O-T HOT!
In the next scene, teacher's pet Katie K catches sexy student Jess West doodling filthy pictures of cock. Katie threatens to tell the headmistress, unless she succumbs to Katie's sexual demands. There's loads of great oral sex, finger banging, and 69ing in this scene, with those sexy ties staying on throughout the entire tryst.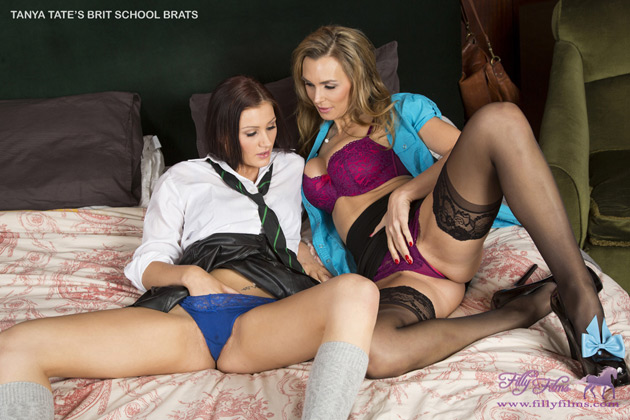 The last scene has Tanya walking in on Samantha's roommate Carla Mai while she's pleasuring herself in her dorm room. Embarrassed, Carla stops, but older Tanya shows younger Carla the real way to play with another woman. Scenes like this remind you why Tanya Tate is one of the hottest MILFs in the business, she gives us a scorching performance that rivals any on this disc. I dare you to try getting through all 31 minutes without busting your nut. When Tanya tells Carla to "sit on my face", it was game over for me.
I really enjoyed Tanya Tate's Brit School Brats, it's an absolute must-have if you're looking for quality lesbian porn with drop-dead gorgeous performers. Pick up this DVD today, you won't be sorry!
>> Purchase Tanya Tate's Brit School Brats from adultdvdempire.com.