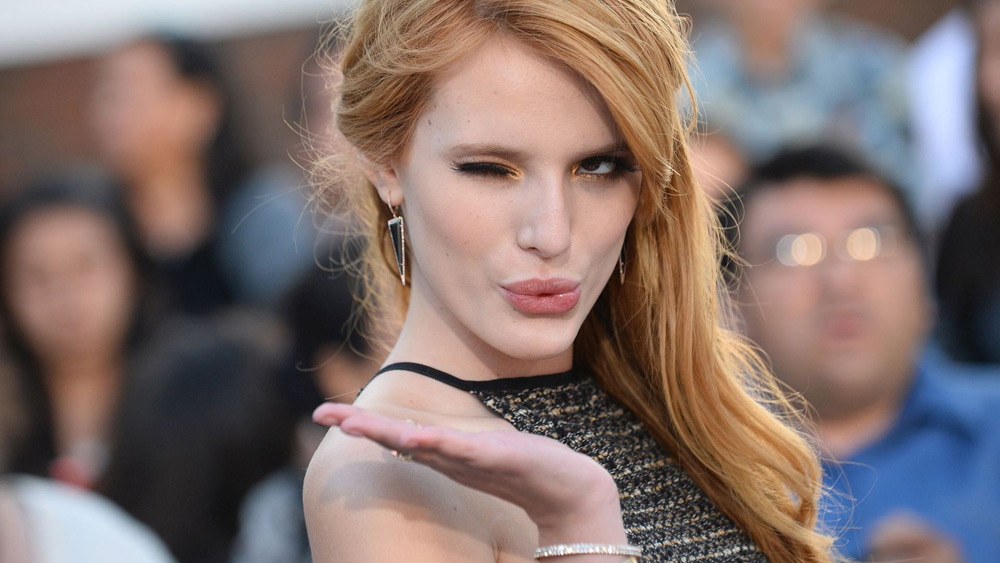 Actress, author and musician Bella Thorne is making her directorial debut, and believe it or not it's an adult movie for Pornhub. The movie is called "Her & Him," and it will debut at The Oldenburg Film Festival in Germany from September 11-15, after which it will be made available on Pornhub.com.
Bella Thorne's directorial debut is part of Pornhub's Visionaries Director's Series, which features debut films by unexpected guest directors to diversify porn production and help create more varied content with multiple types of viewers in mind.
"We're proud to announce our collaboration with Bella Thorne for the next installment of our Visionaries Director's Club. 'Her & Him' is a modernistic, sexually explicit Romeo and Juliet-like depiction of two star-crossed lovers who have an unbridled sexual longing for each other. Their love is reckless and dangerous and transcends time and space," said Corey Price, Vice President, Pornhub. "Bella's creativity and imagination is personified through the course of the film, as she takes viewers on a journey of passion and desire. Make sure you check it out on Pornhub Premium and keep an eye on our Visionaries Director's Club as we continue to create more varied content that will appeal to our fast-growing and increasingly diverse audience."
In anticipation of the film's debut, Pornhub released a trailer of the film and an interview with Thorne, in which she talks about the film and her experience.
"Her & Him" depicts an edgy twenty-something guy who stumbles upon a surprise text in his girlfriend's phone, interrupting their morning routine and spinning everything into an out-of-control sexually charged encounter. The film stars well-known adult stars Abella Danger and Small Hands and features music from rapper Mod Sun.
"What inspired me to do this movie was thinking about this relationship between a male and a female and this fight over dominance and how much that relates to us in our general world, besides just a sexual scenario. My vision behind the story was basically creating these two dynamic characters that could switch off between dominant and submissive," said Thorne. "My initial idea was to create a Christmas horror movie, but instead I made a beautiful, ethereal film. I'm lucky that Pornhub came on and produced this with me. They believed in my vision and weren't scared to jump in with me."
As you can imagine, the decision to direct a film for Pornhub had many people doing a double-take, as Thorne is a former Disney star, and has appeared in many tween movies like Blended, The Duff, and The Babysitter.
But clearly, she's all grown up now, and exploring her wilder side. 😈