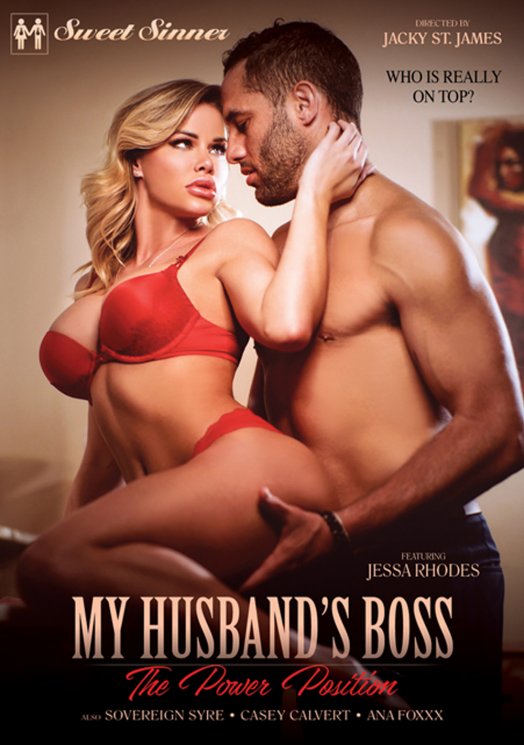 Sweet Sinner explores office power dynamics in the newly released My Husband's Boss – The Power Position. The new feature from Jacky St. James stars Jessa Rhodes caught in the game of sex, lies, and office politics.
Acclaimed director Jacky St. James takes the reins in My Husband's Boss – The Power Position, starring adult superstar and cover model Jessa Rhodes along with Sovereign Syre, Casey Calvert, Ana Foxxx, Isiah Maxwell, Quinton James and Damon Dice. The DVD features four hardcore sex scenes shot in 4K Ultra HD along with exclusive behind-the-scenes footage, a slide show and more.
My Husband's Boss – The Power Position tells the story of a successful woman who finds herself accused of sexually harassing a male employee. Though she fights to defend herself against these accusations, her entire life is turned upside down. As a variety of people come to her defense, it soon comes into question in the game of sex, gender, and office dynamics — who really has the power?
"This movie examines how office politics can take over a workplace and impact a young woman's life," St. James said. "Jessa brought great dramatic and sexual energy to 'My Husband's Boss' in her lead role. Just superb work from her as well as Sovereign, Casey and our entire cast as they brought this very timely story to life with their unique talents!"
I got a sneak peek at the movie this morning, and I've gotta tell you, the action is HOT! All four scenes are great, but Jessa Rhodes and Casey Calvert's scenes steal the show.
Trust me, you should definitely order My Husband's Boss – The Power Position today!