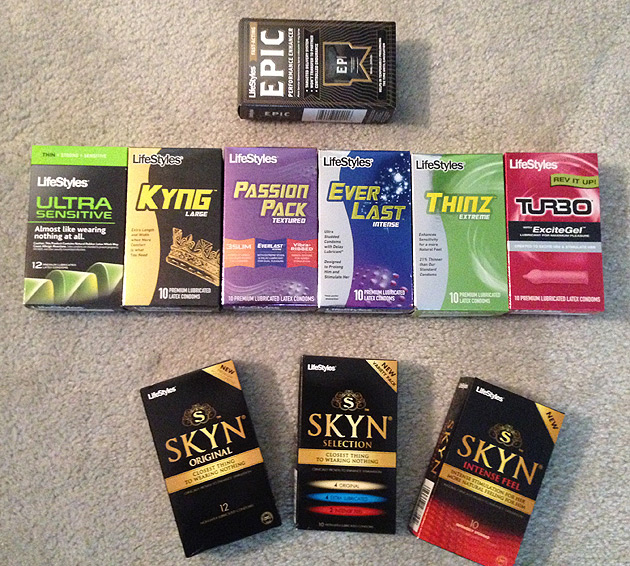 Because they just sent us a TON of condoms to try out.. 🙂
If you're a longtime reader of the site, you know that we're big fans of LifeStyle Condoms, and most recently I've been using their SKYN varieties, which feel like you're wearing nothing at all! Now with their new SKYN Intense Feel line, they've added textured studs that maximize stimulation and pleasure, much like the Fun Bumps condoms I used previously. It's a win-win for sure!
LifeStyle's KYNG Large are made for men who need a larger, more comfortable fit. Walk up to the register with a box of these bad boys, and the cashier will likely blush while thinking of that python you're packing in your pants..
THINZ Extreme is a 21% thinner condom that enhances sensitivity for a more natural feel, perfect for the guy who hates wearing condoms because "it takes away the feeling".
EverLast Intense is an ultra-studded condom designed with a delay lubricant to prolong you and to stimulate her. If you've been called a two pump chump, throw one of these condoms and prepare to be amazed.
You can also try LifeStyle's EPIC Performance Enhancer, which uses a mild anesthetic (Lidocaine) to help delay ejaculation by reducing the sensitivity of the penis. I already last quite a long time, so I couldn't really test this one myself, but I've heard nothing but good things about it.
If you're on the fence on which one(s) to try, my suggestions is to pick up a couple of each and give them a whirl, as what works best for me might not work best for you. And that's the beauty of LifeStyle, they offer a variety of condoms for every need.
Visit www.lifestyles.com to learn more.