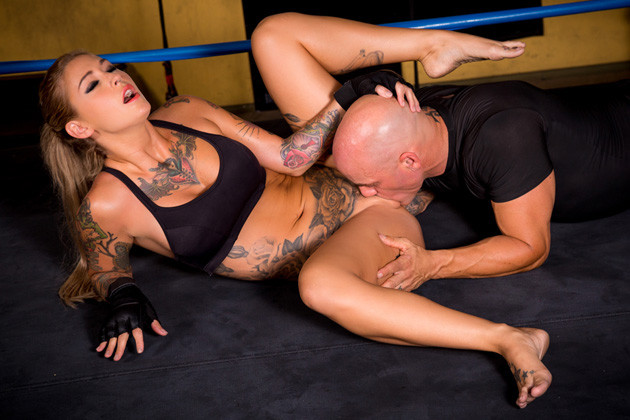 Ronda Rousey's star continues to rise to new levels. The UFC Women's Bantamweight Champion beat Cat Zingano in 14 seconds at UFC 184 in February. She was featured in Sports Illustrated's Swimsuit Edition. She's appeared in Hollywood movies such as The Expendables 3, Furious Seven, and Entourage. And now she has her very own porn parody from Burning Angel called Ronda ArouseMe: Grounded and Pounded.
Ronda ArouseMe: Grounded and Pounded is directed by Joanna Angel and stars Kleio Valentien, Sammy Six, Arabelle Raphael, Moe "The Monster" Johnson, and Derrick Pierce. The knockout cast also features a special appearance by Joanna Angel as Bruce Butthurt, a ring announcer that pays homage of official UFC announcer Bruce Buffer.
In the film, Ronda ArouseMe (Valentien), the Olympic medalist in Kama Sutra and reigning UPC (Ultimate Porno Championship) Women's Bantamweight Champion, charts her difficult path to sexual glory, squaring off against her long-standing opponent and foe, Miesha Taint (Sammie Six).
Here's Burning Angel's Joanna Angel on all the efforts they put into to make the film true to the sport and the athlete (via TMZ):
"We changed the armbar to a dickbar. One of the guys in the film he plays Ronda's trainer, his name is Derek Pierce and he knows a lot about fighting. Derek coreographed a bunch of stuff and fight moves and used a lot of Ronda's moves and incorporated that into the movie. And all the fight moves led into sex scenes. So she's fighting 'Miesha Taint', I don't know what words I'm allowed to say. But Miesha Taint had a special right cross c**t punch. We had a lot of fun with it. Kleio Valentine, she looks so beautiful and really does have a lot of similarities as Ronda and she's a big fan of hers and was really happy to play the role."
The movie has even grabbed the attention of the real Ronda Rousey, who noted the sexy nickname wasn't new: "It's funny, I used to hear that in high school sometimes!"
Looks like a fun flick, right? Then order your copy of Ronda ArouseMe: Grounded and Pounded today!