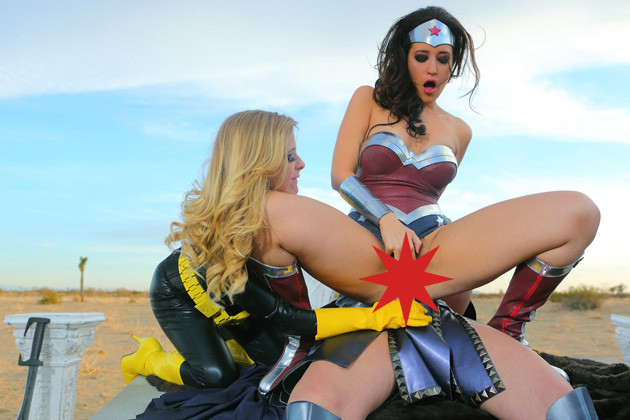 Way back in April 2013, we posted a sexy photo of Kimberly Kane from Wonder Woman XXX: An Axel Braun Parody, and the Internet went absolutely CRAZY over it. But for whatever reason, the superhero porn parody never got released.. Until now.
It's hard to believe that it's been nearly two and a half years since that photo was posted, but Vivid has finally released Wonder Woman XXX: An Axel Braun Parody, which you can watch online at Vivid.com.
Legendary porn director Axel Braun brings the erotic and uproarious adventures of the world's most beloved superhero to life in Wonder Woman XXX. Since her first appearance in 1941, men and women have dreamed of seducing Wonder Woman, or to be her. In the new film, the incredibly desirable warrior princess is played by the multi-talented and award winning actress Kimberly Kane. She portrays a wide range of superhuman powers plus superior combat and battle skills; they are all in the name of fighting for justice, love and peace.
In this long-awaited adult parody, Braun explores her character's love side, with mystery, magic and steamy hot sex comprising the key ingredients. The sexualized storyline of this new erotic masterpiece leads our Amazon heroine into contact with Angleman, Dr. Fate, Fate's wife Maddy, Killer Frost, Batman, Ares, Lois Lane, Cheetah and Superman.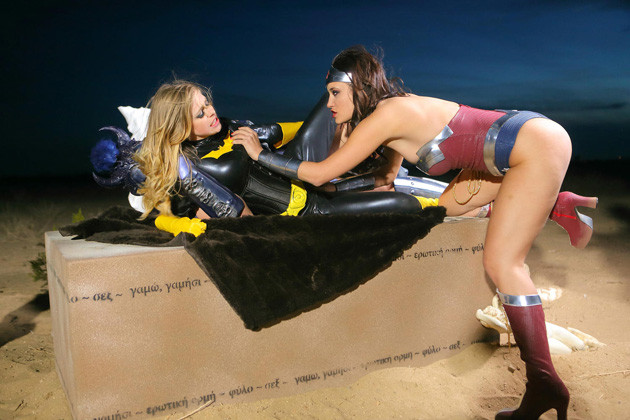 Fans of Braun's parodies will recognize Ryan Driller, who plays Superman for the fifth time, and Giovanni Francesco, who plays Batman for the third time. Actress Ash Hollywood fell so much in love with her role as Killer Frost that she had her hair dyed blue in the spirit of authenticity.
"With Wonder Woman XXX, we really wanted to have some fun," said Braun. "Despite the moody lighting and dramatic settings, this is a really hilarious, tongue-in-cheek movie, with a phenomenal Kimberly Kane purposely overacting every line with a straight face and Ryan Driller pulling double duty as both Superman and the inept super villain Angleman. Everything about the movie is slightly over-the-top and that's just what makes it totally awesome."
Additional cast members include Penny Pax as Batgirl, Kristen Price as Lois Lane, Claire Robbins as Maddy, Melody Jordan as Cheetah, Evan Stone as Ares, Eric Masterson as Dr. Fate and Ana Foxxx as Kianna.
DISCLAIMER: WONDER-WOMAN XXX: AN AXEL BRAUN PARODY IS A PARODY MOVIE. All characters and related materials are trademarks, copyrights and/or registered trademarks of their respective license holders and/or owners. The parody movie is not sponsored, endorsed by, or affiliated with DC Comics or their partners, affiliates or any other company owning the rights to the characters parodied therein or the work being parodied.
Photos courtesy of Vivid