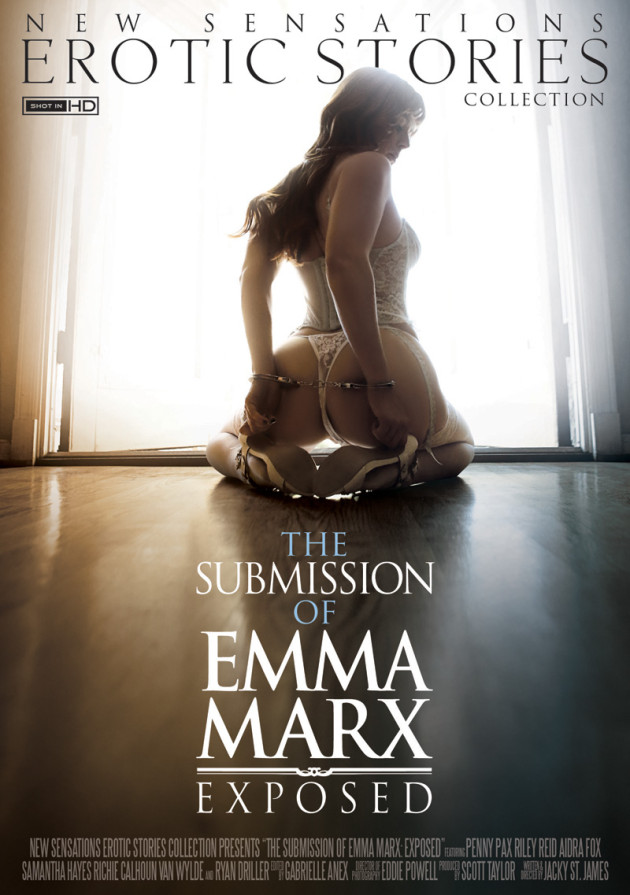 We have been teasing you guys about the release of The Submission of Emma Marx: Exposed ever since production wrapped back in September, and while it's taken awhile to come to market, it's finally set to hit shelves in less than two weeks time.
To celebrate the upcoming release of Emma Marx: Exposed, New Sensations has just released a full-length trailer for the movie, and let me tell you, it looks pretty amazing. Stop what you're doing and go watch it now!
The Submission of Emma Marx: Exposed finds leads Penny Pax and Richie Calhoun reprising their roles as Emma Marx and William Frederick, an unconventional couple who are living an intense, contractual BDSM relationship. Here's the synopsis for the new movie:
Emma and Mr. Frederick's relationship reaches a heightened level of intensity and closeness when his career takes them to Atlanta, Georgia. The change of scenery provides them with a new erotic world to explore – filled with adventure, passion, and a level of trust the two have never known before. But, when Emma's life suddenly takes an unexpected turn, she's left wondering whether she's truly cut out for a BDSM relationship. Vulnerable, uncertain, and fully exposed… she's forced to navigate through a world that begins to challenge everything she's ever known.
Emma Marx: Exposed also sees the return of Riley Reid in her award-winning role as Emma's sister Nadia, and Van Wylde as Nadia's loving husband Ray. Sara Luvv cameos as William's former submissive in a kink-fueled scene with series newcomer Samantha Hayes. Rounding out the cast, and also new to the films, are Aidra Fox and Ryan Driller, who plays a mysterious stranger in Emma's world.
I've been a HUGE fan of this series, and while I'm sure that Exposed will be another explosive movie (in my pants), I'm sad to see one of my favorite series coming to an end.. So here's hoping that Jacky won't let the Emma Marx story end here, and that we'll see more from the kinky couple in the future.
The Submission of Emma Marx: Exposed hits shelves on February 8th. You can pre-order your copy here.