The Colombian sex scandal embroiling the Secret Service has stirred fond memories of my own risque adventures south of the border. Of course, as an unmarried guy not responsible for protecting the leader of the free world, my dalliances with legal prostitutes in Latin America have raised few eyebrows. I thought I'd share with you a chapter from  my book, Around The World In 80 Lays, detailing my experiences in Central American paradise Costa Rica.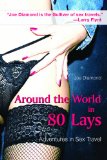 Here's part one…
"Ticas For The Taking"
In December 2006, I went to Costa Rica for Karma magazine, a slick publication, now defunct, that covered nightlife (not spirituality, as one might assume from its name).
Costa Rica is one of Latin America's most prosperous countries and a magnet for eco-tourists. About a million visitors go each year for its rain forest, wildlife, beaches, and volcanoes. The capital San Jose, though, is a hotbed for mankind's favorite indoor activity. Mongers post tons of travel reports about San Jose on the World Sex Guide and other sex-travel websites. Their accounts had been enough to whet my interest in Costa Rica as an alternative to Rio.
Prostitution is legal in the country, which may help explain why 125,000 single American men take the relatively short flight there (about five hours from New York to San Jose versus eleven hours from the Big Apple to Rio) each year. Many of them seem to spend at least some of their trip in the capital relaxing with the attractive ticas—as female Costa Ricans are known—and women from nearby countries who have come to work in the city's thriving sex trade.
My first night, I went to the Blue Marlin bar, the epicenter of San Jose's sex scene, in the Hotel Del Rey. The bar, which overlooks a small casino (Costa Rica is a land of many vices), lived up to its reputation as a hook-up  spot  for prostitutes and gringos. It was around midnight, and men and women were everywhere along the counter, which undulated  like a snake from one end of the bar to the other. The women were ethnically diverse, just like in Rio: bottle blondes, pouty-lipped brunettes, a handful of black girls.
I'm not here for nature hikes or bird-watching," said Jerry. "I'm here for one thing only—screwing."
As I oriented myself to the place, I had a beer with Jerry, a twenty-seven-year-old architect from Cleveland. It was his third trip to San Jose that year.
"There are girls here around  the clock, but this is prime  time," Jerry said.
"What about the trees and vegetation?" I joked. "Where's all that eco-tourism I heard about?"
"I just don't get all that environmental crap," he said. "I'm not here for nature hikes or bird-watching. I'm here for one thing only—screwing."
I was there  to screw, too. It was fun trying to kid myself that as a journalist on assignment, I had a higher calling than the other gringos there. But the main reason I'd sought the assignment was to defray the costs of getting laid. Even if I hadn't gotten the article, the odds were I'd still eventually wind up in San Jose somehow.
A short-haired brunette approached Jerry. "You're too handsome to be alone," she said in broken English. "Let's go."
"Maybe later," he said, before turning back to me.
"She was cute," I said. "No?"
"Not really my type. Especially when there's so many to choose from."
The Blue Marlin's identification with the sex trade is emblematic of  prostitution's acceptance within Costa Rican society. The bar's home,  the  Del Rey, is a major  hotel, an official tourist  site recognized  by the country's tourism board. The hotel even got a recommendation from Frommer's on its website which dryly noted that the Blue Marlin "is very popular with tourists, expatriates, and prostitutes." (The Del Rey's website brags that the Blue Marlin is the city's "number one meeting spot." Unlike Frommer's, however, the site doesn't hint at the purpose of those meetings.)As long as the girls aren't minors, prostitution at a prominent establishment  like the Del Rey isn't fodder for a scandal the way it might be if throngs of hookers, dressed for "work," started turning up at New York's Waldorf Astoria.
Not that the Del Rey hasn't provoked its share of controversy. A few years ago, the owners of the hotel wanted to build a footbridge to their other property  across the street, the Key Largo. Like the Blue Marlin, the Key Largo—an officially-designated historical site that once housed the University of Costa Rica's music school—is a watering hole for prostitutes and mongers. It's also an official tourist site. San Jose's mayor opposed  the footbridge, ostensibly because his staff didn't see a need for it. The city council, however, backed the Del Rey's proposal. The council president even went so far as to say that the mayor's hidden agenda was to discriminate against the owners because they allowed prostitution.
Whatever the mayor's reason, the council president, one of the Costa Rican capital's top politicians, had by implication come out in favor of prostitution. What a different world from the United States.
With only a few days to spend in San Jose, I planned my pilgrimage around three places with large followings on the mongering websites: the Hotel Del Rey, Bar Idem, and my hotel, the Sportsmen's Lodge.
At 2 a.m. on a weeknight, the Blue Marlin was still crowded. I was tired, but horny. A petite blonde (in overalls, of all things) came bopping up the small staircase from the casino. Most of the girls tried to outdo each other in low-cut dresses or ass-clenching skirts. But this one was cute enough to pull off the farm-girl look, even as she shimmied to Styx's "Mr. Roboto"—one of many lame eighties songs you hear everywhere in San Jose.
Her name was Tina. She wanted $100 for one hour, basically the going rate for Blue Marlin girls. I remembered all those online posts from mongers admonishing you to fight "ticaflation" by drawing the line at $75 or $80 per session, even for an all-nighter. But I was too beat for serious haggling. In any event, as soon as she noticed my hesitation, she mollified me by offering another hour at no additional cost. It didn't occur to me that I was too tired to make use of that extra time.
In fact, I was too tired, period.
Tina was as bubbly in bed as she'd been in the bar. If only I'd packed some of that Cialis I'd bought in Rio. After ten or fifteen fruitless minutes of limping along, I gave up and fell asleep. She had refused to kiss on the lips, anyway, which cast a pall over everything. I would not be one of Tina's repeat customers.
The girls in Rio had spoiled me, as most of them had been voracious lip-lockers. A Girlfriend Experience is impossible for me without passionate kissing. A working girl might fuck you hard enough to splinter your headboard, yet you still can't be sure that she doesn't find you repulsive. But if she kisses you right, you know there's some kind of attraction. All right, you never really know. But it's a lot tougher for a girl to feign fire in her upper set of lips than in her lower.
Thus with Tina, I couldn't "forget," not even for a second, that I was paying for her company.
I had similar kissless encounters with four or five working girls the next few days. It gave me a mission, though: to find a girl in San Jose whose lips weren't off limits.
My hotel, the Sportsmen's Lodge, was another fast-rising institution among gringos. The owner was a charismatic Californian, Bill Alexander, a Grizzly Adams type who'd made the place into a vibrant mix of mongers, wealthy American expatriates, and true outdoor enthusiasts who come to Costa Rica for activities including the country's world-class fishing, golfing, scuba diving and white- water rafting.
The bar had a regular contingent of working girls. Not as many as the Blue Marlin, but those who were there were quite attractive. The hotel was "tica friendly"—you could take the ladies to your room without having to pay a surcharge for the privilege. (As a poster on CostaRicaTicas put it: "Bill absolutely understands and supports the market of us folks who go to Costa Rica to fish for pink snapper.")
I was on the lodge's Internet terminal when a somewhat chunky girl in her late twenties sat down at the next computer. Donna was a masseuse—just a masseuse, she stressed—at a nearby hotel. She'd popped in to check her email on her way home from work. Donna had a smooth, pretty face and long brown hair. Though I wasn't attracted to her initially, her way of locking onto my eyes while we spoke won me over.
"How much for a massage?" I asked. Twenty dollars, she said.
I didn't have enough on me, so we went to my room to get my wallet. The plan was to head to an ATM. But we started kissing, then groping, then fucking. Later that night, we went for dinner at a fancy Brazilian restaurant. Wow! Here I was on a date eating Brazilian food with a girl I'd just fucked. San Jose was starting to feel a lot like Rio.
Donna stayed the night, but she threw me for a loop the next morning when she asked for $60. It wasn't much, especially given how much time we'd spent together. But I didn't like the fact that she hadn't been upfront about it. I paid her, but made it clear that we wouldn't be seeing each other again.
This guest post brought to you courtesy of Joe Diamond