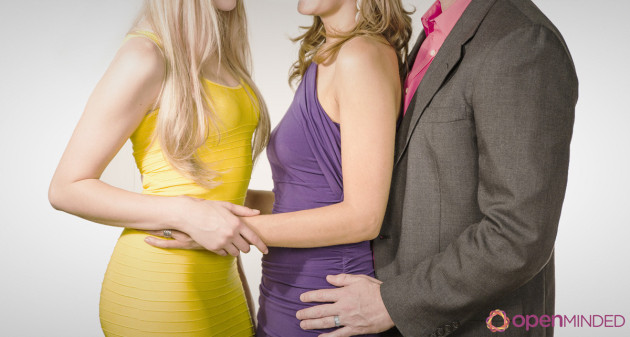 Let's face it – Monogamy dates back to an era when potential mates were scarce and matrimony was strictly business. Then why does monogamy remain the norm today, when the majority of marriages are by choice and romance is just a click away? The truth is that non-monogamous relationships are more common than one might think.
From exposés on polyamory to A&E's recent controversial series Neighbors with Benefits, consensual non-monogamy is becoming increasingly common. More and more everyday couples are trying "ethical cheating" as an alternative to the monotony of monogamy.
In response to the ever-growing community of monogamish relationships, polyamory, swinging, and just plain sexual curiosity, the dating site OpenMinded.com launched yesterday, specifically for those folks interested in connecting with like-minded individuals. And on its first day, the site saw more than 10,000 new sign-ups from both singles and couples!
"The concept of monogamy is outdated, and monotony has pushed many relationships to take a turn for the monogamish," explained Founder and CEO, Brandon Wade. "It's not all full-swap swinging or poly-lifestyles. Open relationships can be found among even the most vanilla couples. There are sites and groups that encourage cheating and infidelity, and this is not one of them. OpenMinded.com is like anti-cheating, creating an online arena fueled by honesty and acceptance, which is the foundation of open relationships."
It's smart how OpenMinded.com has positioned themselves as an "open relationship dating site", rather than associating themselves with sites like Ashley Madison that promote cheating on your spouse. The question is, if that's their real intention, how can they prevent that type of bad behavior from happening on there?
If you're in an open-relationship, check out OpenMinded.com, and let us know what you think of it!