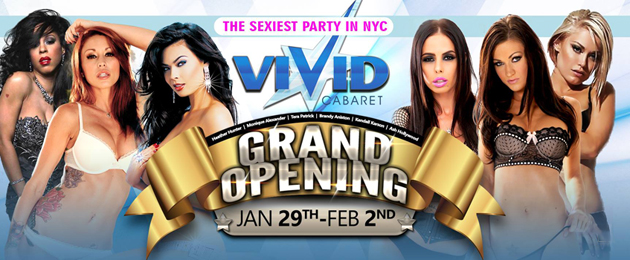 Vivid Cabaret NYC, a new state-of-the-art gentlemen's club in the heart of midtown Manhattan, is throwing a non-stop, grand opening party from January 29th through February 4th to coincide with this year's Big Game that's being held for the first time in New Jersey.
The grand opening festivities at the club on 37th Street just east of Sixth Avenue (61 W. 37th) will feature appearances by a stunning array of Vivid Entertainment performers. The club will also be packed with a total of more than 100 entertainers. For reservations, call (212) 391-2702.
The club is currently open for a "preview" launch from 6pm to 4am daily. "We are open every night at 6pm in a special preview," said Vivid Cabaret NYC Girl Daisy. "It's our gift to horny men everywhere! There's like over 100 sexy girls here. We can't wait until the official opening–let's party now!" On January 27th, the club will begin opening at 11am each day.
Guests can enjoy architectural and design accents that include a dramatic spiral staircase from first to second floors, four stages, a 25-foot stripper pole, luxurious private VIP rooms with private outdoor patio, video wall and high-definition flat screen televisions, amazing DJs and outdoor smoking lounge.
Live shows from a specially designed Vivid Radio studio will be broadcast during the club opening and will air on Thursday, January 30th, Friday, January 31st and Saturday, February 1st from 10:00pm to 1:00am EST each night on SiriusXM Channel 102.
The opening parties will feature the dancing of well-known Vivid performers Tera Patrick, Brandy Aniston, Ash Hollywood and Kendall Karson. Savanna Samson, Monique Alexander and Heather Hunter will also be hosting the parties. Guests will have the opportunity to meet and greet all of the performers who, along with many others, will make regular visits to the club in the future.
The parties begin at 11:00am on January 29th and run non-stop through the weekend of the Big Game, winding up at 4:00am on February 3rd.
In addition, Vivid Girl Savanna Samson will be hosting a series of tastings of her own "Sogno Tre" wine from January 29th – February 1st starting at 9pm each evening. "I've always put the same passion into my wine that I put into sex," says Samson. "I feel confident that guests who attend the opening of Vivid Cabaret will be fans of my wine and I can't wait to get their reactions." Guests can sample Savanna's wine (Rated 92 by noted wine critic Ed McCarthy) and meet her each evening.
"Vivid Cabaret NYC is the most exciting new club to come to New York City since we opened our Rick's Cabaret on West 33rd Street in 2005," said Eric Langan, President and CEO of Rick's Cabaret International. "Opening a new gentlemen's club in Manhattan is exceedingly rare, so we wanted to build a cabaret that is unequalled in every way. Our guests will be amazed at the way we've packaged all their favorite elements in a fun and exciting setting."
Steven Hirsch, founder and co-chairman of Vivid Entertainment, said: "We can't imagine a better location for Vivid Cabaret than midtown Manhattan. This will be our New York home-away-from-home. We'll have a constant stream of Vivid Girls, Vivid Radio hosts and entertainers who will perform at the club."
If you're going to be in town for the Big Game, definitely make sure you stop by Vivid Cabaret NYC!