DreamZone Entertainment has announced a January 2014 release date for their newest feature-length porn parody – Rambone XXX: A DreamZone Parody.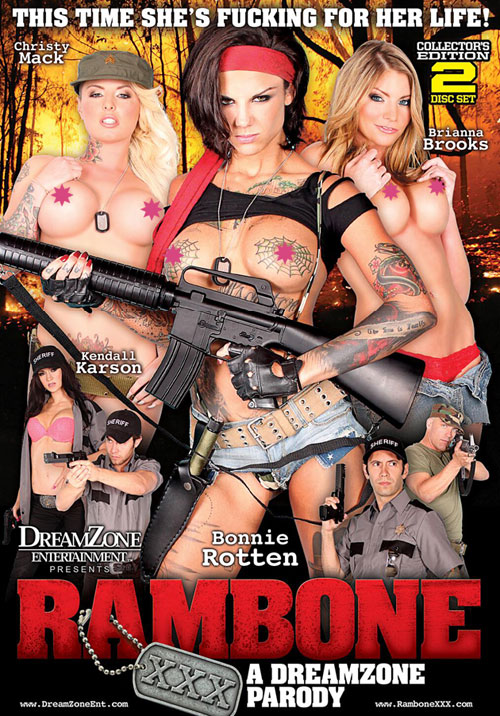 The parody of the smash hit series Rambo stars badass porn superstar Bonnie Rotten as Joan Rambone. If seeing Bonnie wielding a hunting knife and being pounded in her ass does not turn you on, then nothing will!
In the new DreamZone version of Rambone XXX, Bonnie plays the part of veteran Joan Rambone, a gender-reversed version of everyone's favorite Green Beret. Rambone is traveling cross-country when she passes through a small town and finds herself being hassled by the local sheriff and his deputies. They think she's just another typical drifter making her way through their quiet town, but they soon discover that Rambone is not typical at all. As the cops find themselves incapable of handling her sexual prowess and dangerous maneuvers, they realize that hassling her was a big mistake.
Other Rambone XXX cast members include Christy Mack, Kendall Karson, Brianna Brooks, Ryan McLane, Tommy Pistol, Seth Gamble and Derrick Pierce.
You can watch the softcore trailer for Rambone XXX here:

"Rambone was an awesome experience! Getting to embody the character in a movie that I grew up watching was a HUGE treat for me," Bonnie Rotten stated. "Working with Jordan Septo was a blast and the whole crew was amazing (They let me have a REAL survival knife which gets them major points with me). Hopefully everyone will enjoy watching Rambone as much as we did making it!"
Rambone XXX: A DreamZone Parody is a 2-disc deluxe collector's edition that will also include SFW "friendly" versions of some of DreamZone's classic parody adaptions, as well as bonus scenes, trailers and photo galleries.
Rambone XXX: A DreamZone Parody hits shelves in January 2014, and you can pre-order the movie now!