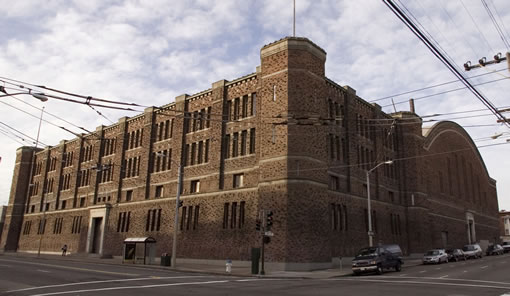 Groupon is in hot water for selling tours to porn company Kink's San Francisco building and production studio. The tour normally costs $65, but Groupon had it for only $28.
Groupon describes the tour as "a menagerie of ornate and functional fetish film sets .. includes a plush lounge and dungeon environments, complete with props forged in an on-site metal shop."
Kink is the world's largest producer of fetish pornography and hosts tours of its headquarters, located in the historic San Francisco Armory building. The Groupon experience included a tour of the building's historically significant features, as well as a visit to Kink's film sets, prop rooms and production facilities. "Depending on the timing," wrote Groupon in the tour description, "groups may also glimpse a live filming in progress." Kink films frequently feature BDSM themes.
Outraged by this, two organizations, Porn Harms and Morality in Media, have announced a nationwide boycott of Groupon.
Groupon has defended the tours of the company: "We thoroughly vet the businesses we feature. Fortunately, this business has proven to be a responsible member of their community. We feel that because the business is an active good community citizen."
Up next for Groupon, another deal that will likely upset conservative family groups:
A party at the Playboy mansion!