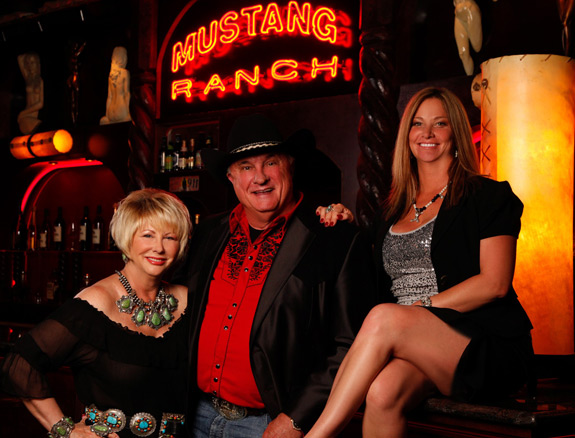 The world famous Mustang Ranch Resort, America's first and oldest legal brothel, is the subject of a new, revealing reality TV series premiering on HDNet. Mustang Ranch: Labor of Love will begin airing on Thursday, May 10th. (Check local listings for exact broadcast times)
"We are beyond excited to open the doors of the Mustang Ranch to HDNet viewers across the country," said Lance Gilman, owner of the legendary bordello just outside Reno, Nevada. "There's a very compelling 'Wild West in 2012' story that we're eager to share, and it's so much more than most people might be expecting."
The show chronicles the daily travails of Madam Susan Austin and real estate mogul Lance Gilman, a 60-something couple who built and run this storied, ultra luxurious resort in northern Nevada. Members of the staff, the working ladies and even some of their regular clients are featured in the half-hour episodes, revealing the heart, humor, and bawdy events that make a visit to "The Ranch" an unforgettable adventure. It might be one of America's best kept secrets—but not for long!
"Mustang Ranch: Labor of Love" is ultimately a profound love story between Lance and Susan, and their unflinching commitment to providing a safe, sensual and emotionally supportive environment for the people they employ, and the public who understand and appreciate the world's oldest profession. As Madam Susan explains, "It's the 'Best Little Whorehouse' with GPS and internet access!"
Seems like the perfect addition to HDNet's "After Dark" programming, and I'll be curious to see how this compares to HBO's Cathouse.