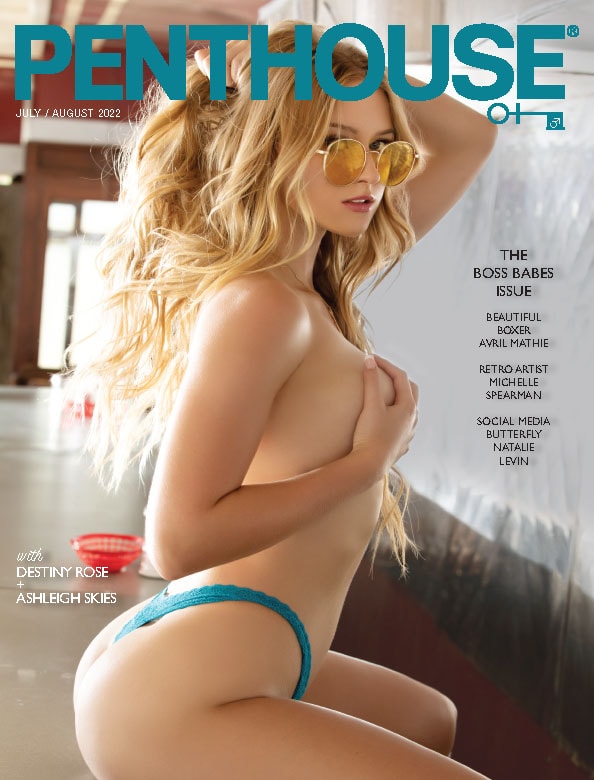 Penthouse Magazine is announcing their Pet of the Month for July 2022 is exotic model and social media influencer, Destiny Rose. The blonde-haired, blue-eyed Polish beauty graces the cover of the July/August edition of Penthouse entitled "The Boss Babes Issue" in her signature 'scandalous' fashion, wearing only sunglasses and a thong.
"Penthouse has played a significant role in the adult industry since 1965. It's an honor to be part of this process," Rose said of being named Pet of the Month. "Penthouse is an iconic magazine known for being unapologetic and scandalous, and that's me!"
The sultry natural D-cup, who is also a black belt, cautions that looks can be deceiving. "At first glance, many people see me as an innocent, sweet Polish girl, but little do they know that I actually have black belt in Taekwondo and spent couple years of my life in the National Polish Team of Taekwondo," she says.
But being a successful athlete is not what Destiny Rose would say is the most daring thing she has done. According to her, it was moving to the United States two years ago. "I had no friends or family here, and my English was really bad. However, I decided to chase my American dreams and get a college degree. It was challenging at first, and many people in Poland thought I was crazy. Hopefully, I proved them wrong."
With previous experience as a children's English tutor back in her homeland of Poland, and as a pizza restaurant waitress and cinematographer, July's Pet of the Month says cinematography is what developed her "passion for art." Also an aspiring actress, Rose adds that preparing for her nude pictorial was effortless. "I never feel nude, I feel natural and free. However, I always try to stay in a positive mindset. It is really important to love what you do, especially in this job."
Photographer Gerald De Behr was impressed with her acting abilities on set. "With Destiny Rose's Penthouse Pet pictorial we went a little more cinematic and wanted to play with the location we had, which was a fake town used by all the studios in Hollywood," he explained. "Destiny embodied the perfect actress, taking on a different role with each look. She brought so much charisma and energy to the set. This shoot was a fun one!"
Penthouse CEO Moose congratulated Destiny Rose on becoming Penthouse's July Pet of the Month. "It's always an honor to meet a successful model and influencer who is enthusiastic about her work, and Destiny Rose has the type of exuberant personality that we like to see! She is a risk taker, not afraid of a challenge, and we are thrilled to welcome our July Pet of the Month, Destiny Rose, to the Penthouse family."
"Hardworking, ambitious and unapologetic, Destiny Rose doesn't take no for an answer when she goes after what she wants," said Penthouse Photo Editor, Sam Phillips.
"Destiny followed her dreams of going to college and moved to the U.S. from Poland two years ago without knowing much English or anyone here, and without support from folks back home. Always keeping a positive mindset, Destiny has proven no obstacle or adversity could hold this 'boss babe' back when she landed on the cover and pages of Penthouse Magazine.
A black belt in Taekwondo this blue-eyed, bubbly blonde doesn't just have beauty and brains, she's got brawn, too. As our July Penthouse Pet, Destiny Rose has a 'date with destiny' when the July/August issue hits newsstands, bookstores and airports nationwide."
Read more about Penthouse's July Pet of the Month, Destiny Rose, and see her featured pictorial and centerfold in the July/August issue of Penthouse Magazine entitled "The Boss Babes Issue." For more exclusive access, please visit PenthouseGold.com.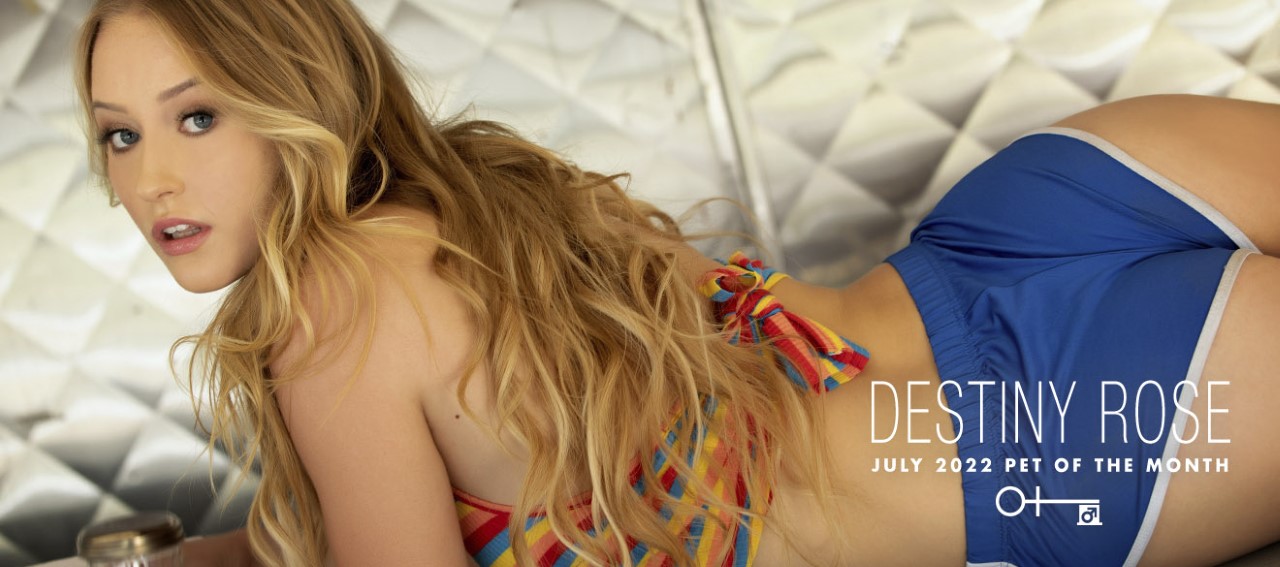 You can follow Destiny Rose on social media at:
Twitter: https://twitter.com/lilpolishangel
Instagram: https://www.instagram.com/littlepolishangel1/