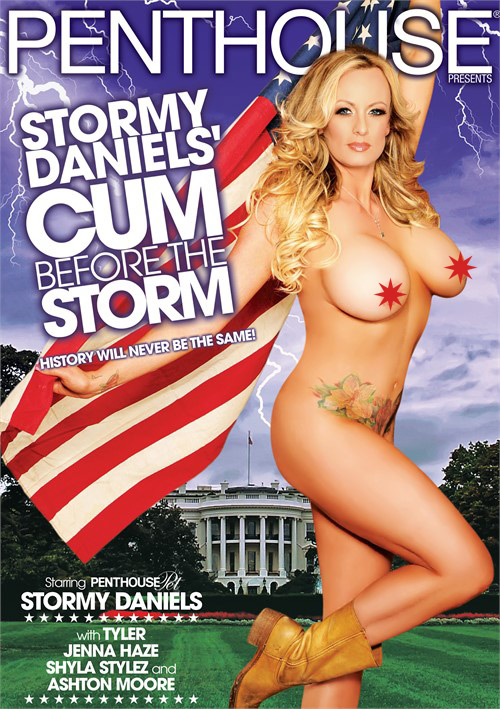 You can't go more than five minutes without hearing about Stormy Daniels, who allegedly had an affair with President Trump over a decade ago when the porn star was in her prime. Penthouse Magazine recently had Stormy Daniels on the cover and inside the pages of their May/June issue.
Now for their encore, they have announced a new DVD release entitled Stormy Daniels' Cum Before The Storm, which is set to hit stores nationwide on May 11th. "History will never be the same!"
According to a Penthouse rep, "Stormy Daniels – Cum Before The Storm is an all sex-filled Stormy overload of amazing classic content that the porn superstar provided Penthouse in the years past. We have always loved Stormy here at Penthouse," he said, "and continue to support her through all that is going on in the media today."
Moose, president of Girlfriends Films (Penthouse's video distributor) says, "As a colleague, it's exciting to be distributing this new release that features the incredible work of Stormy Daniels for the benefit of all the fans who love and support her. We're stoked for this new Penthouse title and to do our part in commemorating her moment in history with the release of this new DVD in conjunction with her magazine cover."
So yeah, if you want to see what President Trump allegedly got his hands on, you should definitely pick up a copy of Stormy Daniels' Cum Before the Storm, which is currently available for pre-order.
May 11th can't get here soon enough!