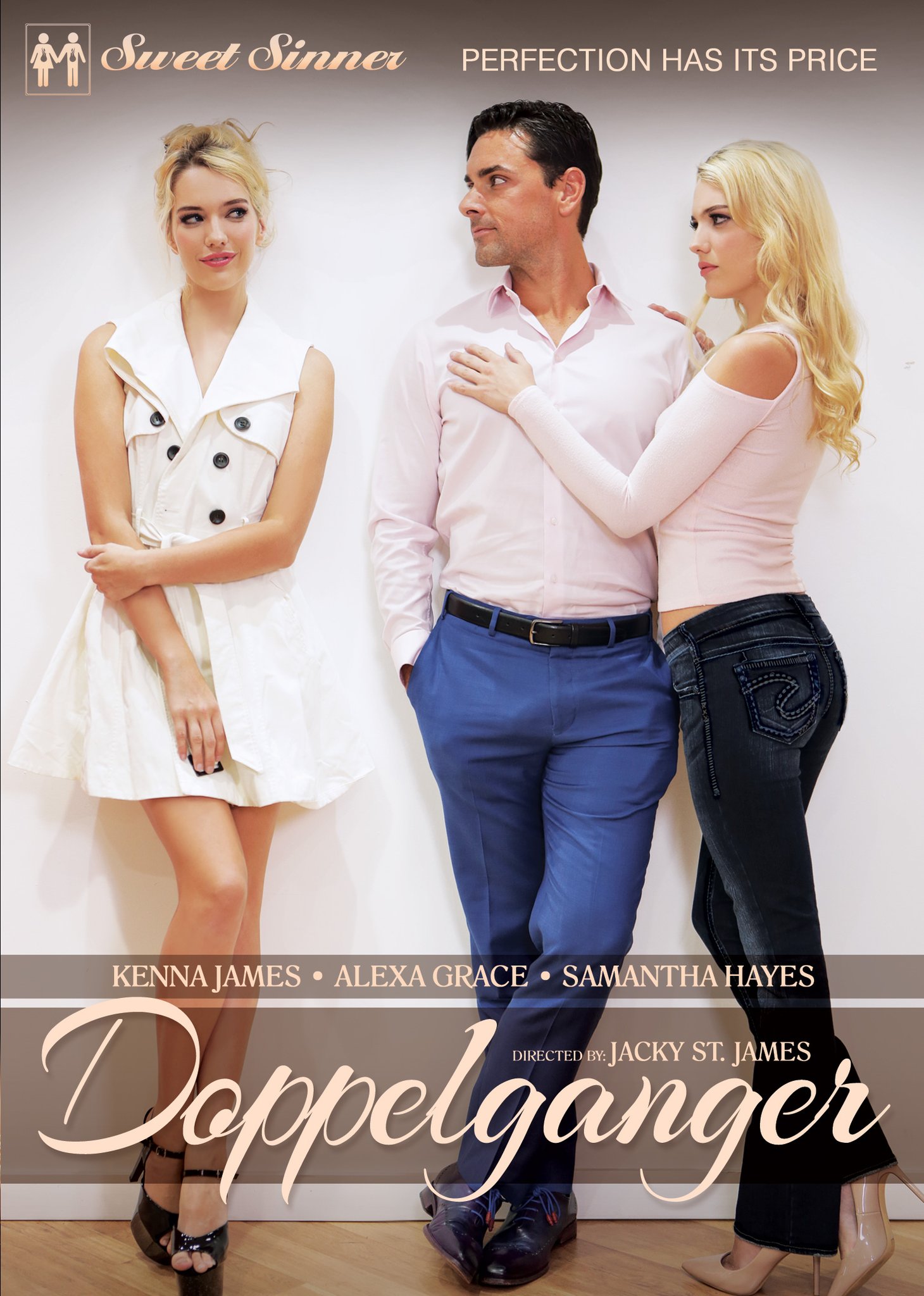 If you're looking for an erotic thriller with a futuristic twist, then you've got to check out Doppelgänger from Sweet Sinner, which is now available on DVD.
Acclaimed director Jacky St. James directs a tale of vanity and beauty taking a sinful turn in Doppelgänger, starring Kenna James, Alexa Grace, Samantha Hayes, Lucas Frost, Ryan Driller and Chad Alva. The DVD features four hardcore sex scenes shot in HD, along with exclusive behind-the-scenes footage, a slide show and more.
"Doppelgänger is a modern story of misguided people and the forces they unleash in their pursuit of beauty," St. James said. "Kenna and Alexa do an amazing job as the objects of Ryan's affections, bringing a lot of passion and drama to their roles. Likewise, Samantha, Ryan and the rest of our cast are brilliant as they inhabit this passionate and twisted world of money, sex and vanity."
With a backdrop of a world where technologic breakthroughs increasingly allow the ultra-wealthy to manufacture their appearance "Doppelgänger," opens with Ryan who has lost himself, and the love of his life, in pursuit of this outward perfection. He paid to look more distinguished so his employees would not see him as the spoiled rich kid who inherited his father's company. His ability to buy whatever he wants has caused him to fantasize about what he cannot have—like women who are not won over by wealth. A product of privilege, Ryan's step daughter, Alexa, also wants the one thing she can't have: her stepfather. Alexa goes under the knife to make herself look indistinguishable from Ryan's current obsession—a young stripper named Kenna. Unfathomable wealth has left these two beautiful, but broken, individuals longing for what money can't buy. Their preoccupation with perfection may ultimately be their downfall.
Pretty wild, right? While I'm a sucker for anything with Alexa Grace or Kenna James in it, the storyline's what really won me over here, a thought-provoking movie with a bit of a Black Mirror vibe going on.. and a whole lot more fucking going on!
If this sounds like your type of movie, stop what you're doing and order your copy of Doppelgänger today!