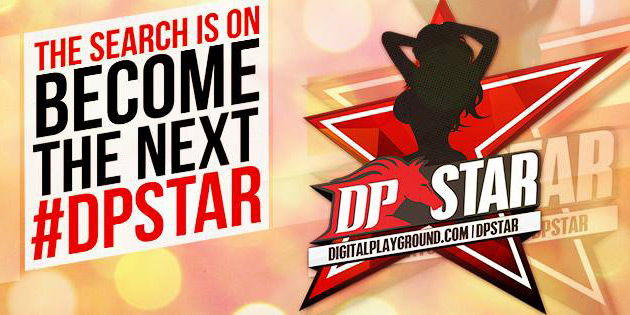 Ok you perverts, get your minds out of the gutter.. Digital Playground has announced the international search for the next DP Star. DP is looking for models that exhibit incredible sex appeal, have a great personality and radiate undeniable star power. The contest is open to newcomers and known talent alike.
Industry favorite Nikki Benz joins DP Star as the host and lead judge, she says "I am absolutely thrilled to have been approached by Digital Playground to be the host and lead judge in this historic series. Never has there been anything like this before or of this magnitude until now. I look forward to being on board with Digital Playground in the search for the next DP Star!"
The talented and beloved, Dani Daniels, also joins the judge panel to help Digital Playground find its next brightest star! Daniels comments, "I'm always excited to be a part anything Digital Playground does, so when they asked me to judge this competition I was honored and more than willing to come on board. I'm excited to see all the great talent!"
In addition to worldwide fame and recognition as well as access to the largest adult network in the world, the DP Star winner will receive:
Royalties to their personalized Fleshlight mold
Leading role in the Digital Playground Blockbuster of 2015
1 year exclusive Digital Playground contract
Online video submissions are now being accepted and will remain open until November 10th, 2014. For the audition, candidates are expected to showcase their personalities, acting skills and ability to seduce their audience. DP Star judges will narrow the search and invite the top 25 girls for an in-person audition. After a series of challenges, Benz and Daniels will select the top five candidates that the world will vote on. And the winner will be crowned the first ever DP Star!
To submit your DP Star video or support your favorite applicant, visit www.digitalplayground.com/DPStar.