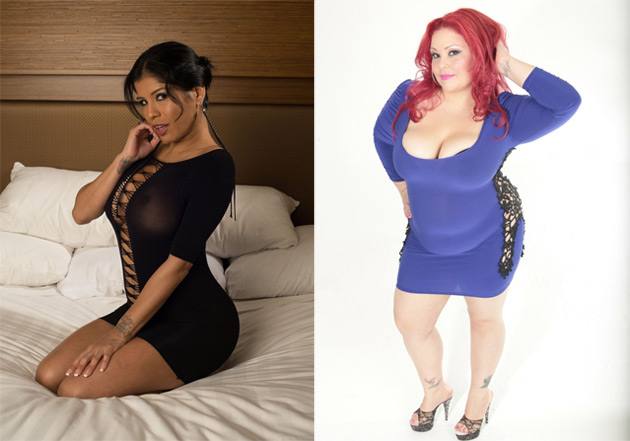 Adult stars Alexis Amore and April Flores will join the roster of gorgeous talent at the Vivid Radio Network with their own new programs.
Alexis' new show, That's Amore, will debut on Wednesday, October 22nd from 1-2pm PT and April's show, Voluptuous Life, starts on Thursday, November 6th in the same time slot. Alexis and April can be heard on the SiriusXM app, channel 791 and on VividRadio.com.
Peruvian born Alexis moved with her family to the U.S. when she was a child and settled in Redondo Beach, CA. The raven-haired beauty started modeling at 15. Years later, with 48-24-32 measurements, she met adult stars Jewel De Nyle and Alexa Rae and learned about their positive experiences in the industry. She was intrigued and contacted Vivid Entertainment, which hired her in November 1999 for her first film, The Watcher 6. This led to more movies and later her work as a director.
Alexis formerly penned a sex advice column for Oye, a mainstream magazine in Peru, and was a columnist for AVN Insider. She has been the subject of various stories in Hispanic media and is the winner of the NightMoves Fan Choice Best Actress Award as well as the Fan Choice Best Feature Entertainer Award.
"I'm very happy and excited to be working with Vivid. It was where I started my career and it's definitely a pleasure to be back," said Alexis.
Multi-award winning adult actress April Flores is the number one BBW star in the world. She is also a muse, a model and a feminist, but that's barely scratching the surface of this fearless voluptuous star with brilliant scarlet hair. She is a proponent of the LGBTQ community, a sex-positive activist, an outspoken advocate of body diversity, a glamorous art model, avid kink fan (both sub and dom), and all around powerful woman.
April has posed and been interviewed for dozens of magazines and appeared in countless films of every genre, from mainstream to queer, kinky and artsy. Her mere presence and powerful sexuality speaks volumes about her activism for body diversity.
"I am thrilled about joining Vivid Radio and its wonderful team," said April. "I look forward to engaging with my fans on a whole new level and connecting with a new audience who may not yet know me. I know this is going to be a fun, sexy intimate, entertaining and informative experience in this medium."
For a limited time fans can get a 30-day free trial to listen to all the sexy fun on vividradio.com.