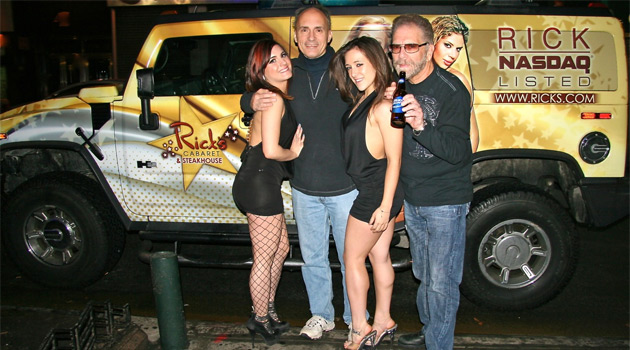 Last week, we told you about Rick's Cabaret NYC Super Bowl ticket giveaway promotion, and on February 1st, one lucky bastard was awarded two tickets and transportation to the big game! Ronnie the Limo Driver from the Howard Stern Show was on hand to help pick the winner.
"Rick's was packed on all three floors and all the customers were given a lottery number," explained Rick's Cabaret Girl Kelsey. "All the numbers were placed in a Bud Light bucket and Ronnie reached in and picked out the winning number."
"The winner was Dan Coffey, and he took a friend to the game. He was very excited," said Rick's Cabaret Girls Madison. "We took some photos with him in front of the RicksMobile, which was his ride to the game."
"It was a great night at the club. Rick's Cabaret is always doing something cool. All three floors of the club were packed and everyone was having an amazing time. After all, there were over 125 Rick's Girls taking off their clothes–who wouldn't be happy! haha!" said Rick's Cabaret Girl Tina.