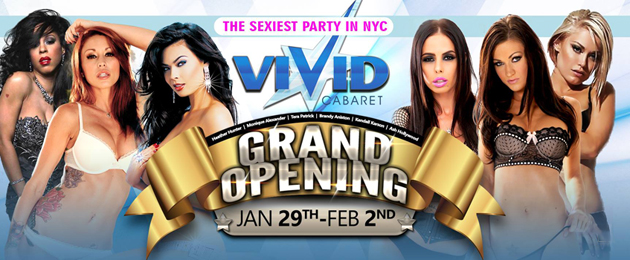 Vivid Cabaret NYC, the ultra-modern new gentlemen's club in Midtown Manhattan, has been packed nightly since it opened for previews two weeks ago and is now ready for four days of grand opening parties starting tomorrow. The club, located at 61 West 37th Street just east of Sixth Avenue, is in the heart of the city's Fashion District and a short walk from Madison Square Garden and Times Square.
Vivid Cabaret NYC has received rave reviews from early visitors. It "promises never-before-seen heights of eroticism," according to an article in The New York Daily News that appeared a week after its "soft launch." The article noted that "at least" three dancers could perform simultaneously on its 25-foot high stripper pole, which it said is the "city's tallent strip club pole."
It's likely to attract even more fans starting tomorrow (January 29th), when it holds a first-of-a-kind G-String Cutting formal opening ceremony at 9pm at the club, which features more than a dozen VIP champagne rooms, a state-of-the-art sound system, top DJs, a special broadcast booth for the Vivid Radio/SiriusXM channel, plus frequent visits by Vivid Girls, the elite among adult actresses.
For more information, visit the club's Facebook page or visit www.vividcabaretnyc.com.