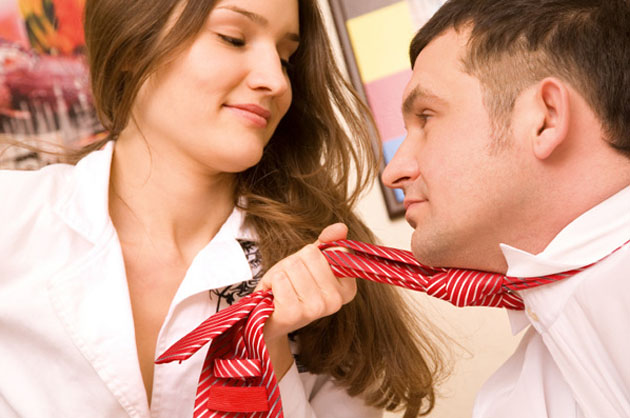 It's the holiday season, and with a slew of office and holiday parties on the horizon, Trojan is offering a peek beneath the sheets on how men & women mix work and play during this time of, ahem — giving.
According to research via a national survey with Harris Interactive, 'tis the season for holiday hook ups, with 42% of males and 27% of women ages 18-34 stating they've gotten it on at, or shortly after a holiday party. After reading these stats, you may never look at your copy room the same way again!
Trojan Holiday Poll Results:
Who's getting it on and where?
New Year's, Christmas & Workplace parties came in as the top three festivities for holiday hook ups
24% of Americans have hooked up with someone at or following an office/workplace party
42% of men and 27 percent of women, ages 18-34 have gotten it on at, or following a holiday party
"Wrap Up" Your Gift In A Box With A Condom:
46% of those who have had sex at and/or following a holiday party DID NOT use a condom.
Where Are Colleagues Getting It On During Their Holiday Hook Ups?:
74% stated they brought their office hook up to their home
18% "booked" a conference room
16% the mail room
10% hooked up on their bosses desk
10% made more than copies in the copy room
Ugly Sweater? No Problem!:
6% of Americans have hooked up with someone at or following an Ugly Sweater party
Younger Junior Staffers Deserve A Promotion For Condom Compliance:
People ages 18-34 (60%) are much more likely to indicate that they used a condom vs. older groups during their holiday office trysts
35-44 (49%)
45-54 (33%)
55-64 (16%)
65+  (21%)
We need to get those condom compliance numbers up, so we've teamed up with Trojan to give away some Trojan Pure Ecstasy condoms to our loyal readers. Five winners will each receive two boxes of Pure Ecstasy.
To enter, simply e-mail us and tell us what your favorite brand of condoms is. We'll pick 5 winners at random on Friday December 27th.
Good luck!