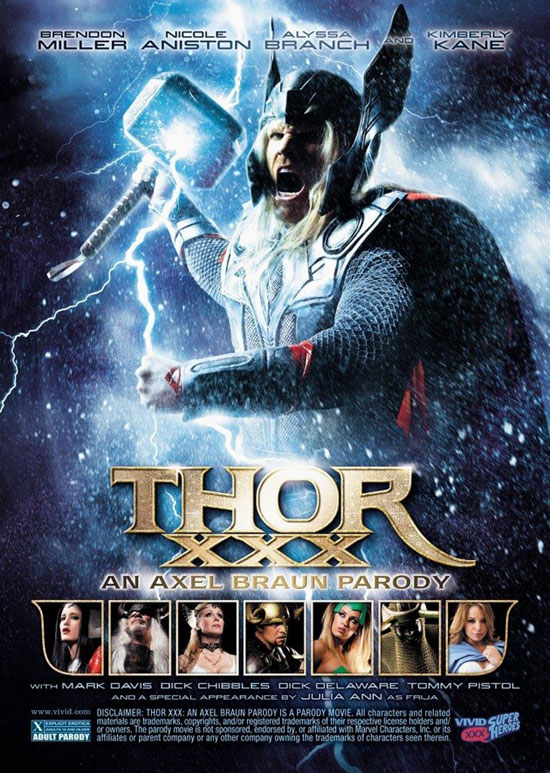 A few weeks ago, I posted about Thor XXX: An Axel Braun Parody, Vivid's latest superhero porn parody. Just in time to cash in on the Thor: The Dark World fever, Thor XXX hit shelves across the country yesterday.
In Thor XXX: An Axel Braun Parody, the mighty Thor (played with dramatic intensity by Brendon Miller) battles the Frost Giants and suffers minor wounds.. Only to be betrayed by his own half-brother Loki, who tricks him into hurtling his hammer Mjolnir to Midgard after assuming Thor's identity to seduce Sif. What follows is a trip to Earth, a fever dream hospital stay, an encounter with The Temptress and The Executioner, and a series of epic battles and even more epic sex that only the legendary Axel Braun could conceive!
Here's a work-safe trailer that gives you a little taste of what to expect:

The movie stars Brendon Miller as Thor, and the cast also includes Julia Ann as Frija, Nicole Aniston as The Enchantress, Alyssa Branch as Jane Foster, Kimberly Kane as Sif, Mark Davis as Odin, Dick Chibbles as Heimdall, Dick Delaware as The Executioner and Tommy Pistol as Loki.
In celebration of the release of Thor XXX, we've teamed up with Vivid to give away 5 copies of the movie!
Want to win a copy of Thor XXX on DVD? Simply e-mail us and tell us who your favorite person in the cast is. We'll pick 5 winners at random on Friday November 22nd.
Please note, this giveaway is open only to US residents that are 18-years-of-age and older.
Good luck!
DISCLAIMER: 'THOR XXX: AN AXEL BRAUN PARODY' IS A PARODY MOVIE. This movie is not sponsored, endorsed by, or affiliated with any entity owning the rights to the characters parodied therein or the work being parodied.