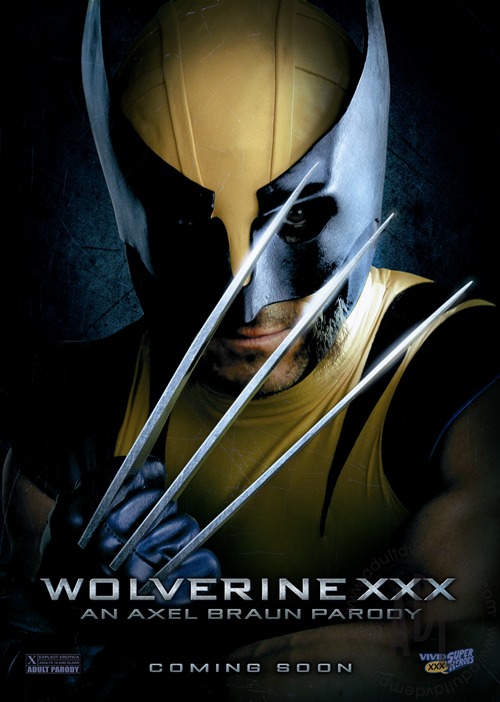 A few weeks ago, I posted an early review of Wolverine XXX: An Axel Braun Parody, Vivid's latest superhero porn parody. Now I've watched all of Braun's adult parody movies, and I honest thought that Wolverine XXX was his best one yet. Whether you're a comic book fan or not, you'll surely enjoy yourself while watching this film. Take that statement however you'd like..
Wolverine XXX, which was just released online at vivid.com and will hit store shelves on September 10th, is sure to become an instant parody classic, and I wouldn't be surprised if this movie gets a bunch of award show nominations in the coming months.
"Wolvie has always been one of my favorite superheroes, and I wanted to do him justice," says Braun. "Even though Hugh Jackman did a terrific job making the character his own, there were several things that always bothered me, one being his height (Wolverine is supposed to be much shorter), and the other one the fact that in six movies he still hasn't worn the iconic yellow/blue costume…so I decided to fix all that."
In Wolverine XXX, Tommy Gunn plays a mysterious mutant superhero with an unbreakable skeleton and an overly developed sex drive. He eventually discovers that he has been used and experimented on as a living weapon by several governments and agencies over the years, each altering or wiping his memory to suit its needs. While unraveling the threads of his past, Wolverine encounters other fascinating characters and, of course, hot sex occurs at every turn.
Here's a work-safe trailer that gives you a little taste of what to expect:

The movie stars Tommy Gunn as Wolverine, and the cast also includes Aiden Ashley as Domino, Derrick Pierce as Deadpool, Xander Corvus as Spiderman, Allie Haze as Rogue, Andy San Dimas as Jean Grey, Asa Akira as Mariko, Charmane Star as the handmaiden, Maya Hills as Lady Deathstrike, Evan Stone as Sabretooth, Lexington Steele as Nick Fury, and Mike Moz as Professor Xavier.
In celebration of the release of Wolverine XXX: An Axel Braun Parody, we've giving away 5 copies of the movie, courtesy of our friends at Vivid Entertainment!
Want to win one of these videos? Simply e-mail us and tell us who your favorite superhero is. We'll pick 5 winners at random on Wednesday September 4th.
Please note, this giveaway is open only to US residents that are 18-years-of-age and older.
Good luck!
DISCLAIMER: 'Wolverine XXX: AN AXEL BRAUN PARODY' IS A PARODY MOVIE. This movie is not sponsored, endorsed by, or affiliated with any entity owning the rights to the characters parodied therein or the work being parodied.