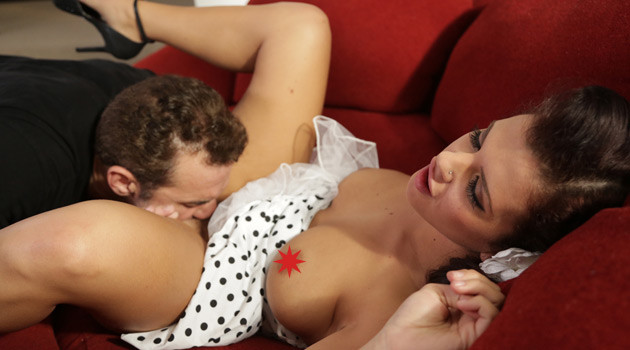 Mile High Media's new erotic movie Father Figure: Volume 8 features a cast of young starlets headlined by the stunning Keisha Grey, along with Elektra Rose, Josie Jagger, and Shauna Skye.
The James Avalon helmed flick includes four stories of young girls enamored by older men. Now I don't know about you, but I love these types of movies, as they give us old farts hope that we can still pull some hot 21-year old tail as we get older.. Yeah right! 🙂
In Father Figure: Volume 8, Elektra is a naughty nymph who needs a little persuasion from her agent to show up for work. Keisha gets a private lesson with her favorite writer. Shauna may not be familiar with her b/f's actor father, but she knows a great kiss when she gets one. Josie has some issues that only her therapist can get to the bottom of.
"It all boils down to chemistry when casting older/younger movies about seduction," states Mile High Media Vice President Jon Blitt. "James finds performers who can't keep their hands off each other, making for some really hot scenes. Volume 8 of Father Figure is the perfect example of this."
Watching a Sweet Sinner movie with a lover is part of the appeal of the studio. With real lovemaking and real orgasms, they provide you with a new kind of couple oriented erotica. Each sex scene is filmed in its entirety, revealing the true chemistry and connection transpiring on screen. The results are adult movies hot enough for him and passionate enough for her.
I'll be honest, I was already on board when I saw that Keisha Grey was the headliner, as I can't get enough of her. But the movie sounds great, and I can't wait to watch it in it's entirety this weekend. Father Figure 8 is now available on DVD, so what are you waiting for?
>> Pick up your copy of Father Figure: Volume 8 today!