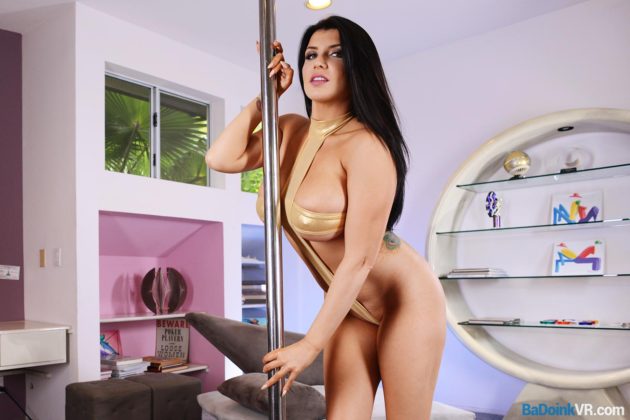 When it comes to cutting-edge technology in the realm of adult entertainment, there's nothing more exciting development than the introduction of virtual reality porn. And Romi Rain fans are in luck, because the popular adult star has a brand new VR scene that was just uploaded to BaDoink VR!
Entitled The Best Birthday Surprise, the mind-blowing pairing features Romi with Isiah Maxwell cranking up the heat as the two show off their lusty chemistry.
It's your birthday and your lovely girlfriend, the beautiful and voluptuous Romi Rain, wanted to show you some of the skills she's learned with her brand new stripper pole; but it's her incredible blowjobs and sweet tight pussy that this celebration are all about. Watch this hot VR porn scene from the POV of a big black cock, and enjoy all the interracial goodness that Romi got for you today.

She wants you to relax and lay back on the couch while she does all the work here. There's very little clothing containing Romi's massive double Ds, and surely enough, they come out to play with you.

She begins to lick the pole, but quickly realizes the flesh one feels a lot warmer. She uncovers the pants that are keeping it away from her, then takes your dick in her mouth.

There's only so much teasing she can handle. Romi gets on all fours and perks up her big booty so you can fuck her doggy style. Her tight pussy just loves big black cock, and she's not shy at all to admit it. It might be your birthday, but she's loving this just as much. She goes back to giving you a really moist blowjob while stroking it and giving you all the dirty talk you could possibly want.

Wanna get a little more comfortable? Just lay on the couch again and let her do what she does best. As long as you're hard, she doesn't care. Romi spits on the dick and has it slide in between her huge boobs and keeps on talking dirty to you while she tittyfucks you. She hits your cock against her nipples and goes right back in between those giant breasts.

Romi wants to feel it inside her again, so she straddles you again. Your dick is so big for her that she can't even sit properly, but she gets on her feet and manages to ride you back, while showing you an amazing view of her sweet gaping kitty.

She turns back around into a reverse cowgirl position. She wants it all in; she wants to make your big dick disappear inside her tight little pussy. And it does!

Romi has lovely feet, too, and they're very talented when it comes to foot jobs. She goes up and down your shaft with the arches of her feet while making eye contact with you in a very immersive moment. She wants you to come for her, and she's ready to take all of your load. Romi's so happy, she almost feels like it's her birthday.
Fuck me.. if that description didn't get your dick rock hard, you might need to see a doctor! So if you're ready to experience Birthday Sex like never before, head over to BaDoink VR and get ready for the time of your life!