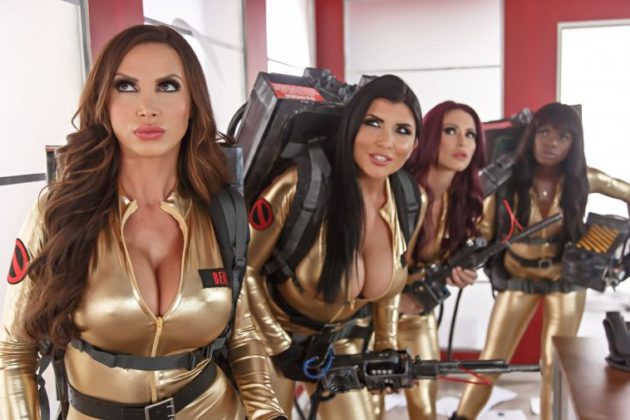 Based on all of the negative publicity that the all-female Ghostbusters reboot has gotten so far, I'm expecting it to bomb and leave theaters within a few weeks of it's release. Seriously, who thought it'd be a good idea to remake a classic movie like this with a cast of unfunny female comedians?!
The only good thing to come out of this clusterfuck is a Ghostbusters porn parody from Brazzers. That's right, answering the ambivalent reactions of YouTube's online community regarding the Ghostbusters trailer earlier this year, Brazzers decided to release their own interpretation of the all-female cast of Ghostbusters, the aptly named The Nutbusters.
After an insulting encounter with Charles' all-male ghostbusters crew, Monique decides to form The Nutbusters, an all-female equivalent crew to fight off the wave of ghastly phallic invasions of New York City's inhabitants. The series follows the two crews as they compete to bust the most ghosts and prove their supremacy in the age-old paradigmatic arena of 'man vs. woman'. The series features an all-star cast, starring: Nikki Benz, Monique Alexander, Romi Rain, Ana Foxxx, Charles Dera, Xander Corvus, Isiah Maxwell and Sean Lawless.
You can watch the work-safe trailer here:

"When we saw how disappointed people on YouTube seemed with the trailer for the new Ghostbusters, we decided we had to throw our hat into the ring and give fans of both the original film and Brazzers something they would truly want to see from a peppy, sexy, all-female ghostbusting cast. And with Ghostbusters XXX Parody fans can get involved (indirectly) by bringing their own ectoplasm to the screen – literally."
Ghostbusters XXX Parody is a four-part series that's currently airing on BRAZZERS to help fans slime their disappointed expectations away, so go check it out!