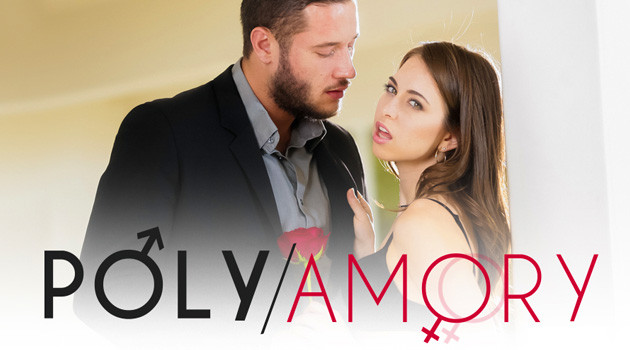 Erotica X is tapping into the increasingly popular genre of polyamory (the lifestyle of being involved in multiple relationships) with their latest release, the aptly named Polyamory. Now available on DVD, the movie marks the Erotica X directorial debut of famed filmmaker James Avalon.
Polyamory stars adult performers Riley Reid, Adriana Chechik, Jenna Sativa, Aidra Fox, Logan Pierce, and Danny Mountain in four scenes of passionate sex and intricate relationships.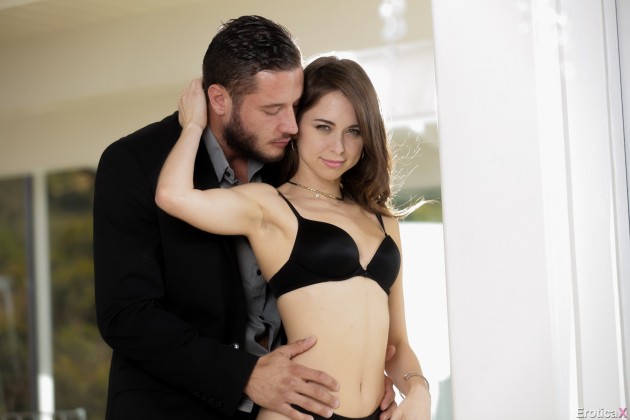 A growing lifestyle, polyamory is about the idea of being emotionally involved in multiple relationships rather than sleeping around or swinging. Most poly people have a "primary" relationship and then other secondary relationships of varying degrees of commitment and intensity.
In Polyamory, Logan tries to step up his relationship with Riley, only to find she's becoming more serious with Danny. Meanwhile, Logan goes back to Adriana, who is currently seeing Aidra to discuss things with her about Riley, but Aidra suggests the three of them do some sensual experimentations. Riley, truly a bisexual, then goes back to her primary girlfriend, Jenna, as they make love in her gorgeous new home. It's a complex web of relationships fueled by passion, desire, love, and respect.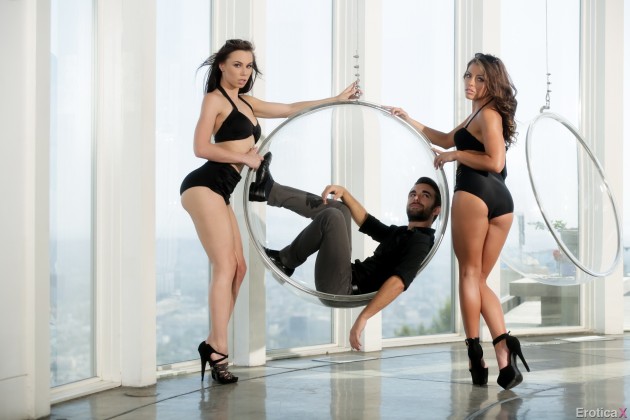 "When I heard that O.L. Entertainment was interested in having me direct for Erotica X, I knew immediately I wanted my debut to be about polyamory," states James Avalon. "Using the polyamory lifestyle as a theme throughout the movie, we were able to create four beautiful vignette scenes capturing the essence of the studio and its awarded movies."
Scenes from Erotica X are unlike anything else on the marketplace and a slight departure from what fans have come to expect. Erotica X features beautiful and intimate exchanges between performers; the main focus is on connections and chemistry. The movies are shot entirely on DSLR cameras for visually stunning results.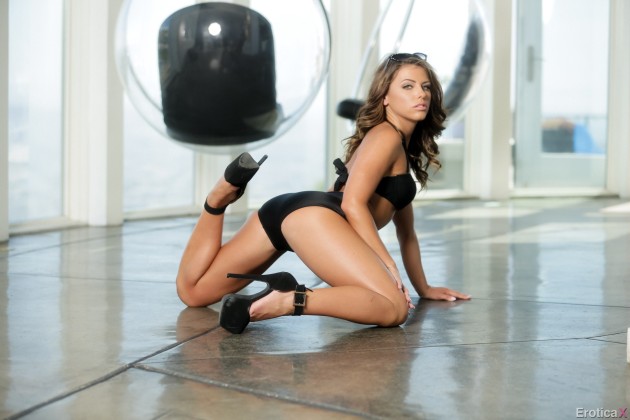 I'll admit, the thought of a polyamory-themed porn intrigues me, and with James Avalon behind the camera, you can be sure that we're in for a real treat!
>> Order your copy of Polyamory today!