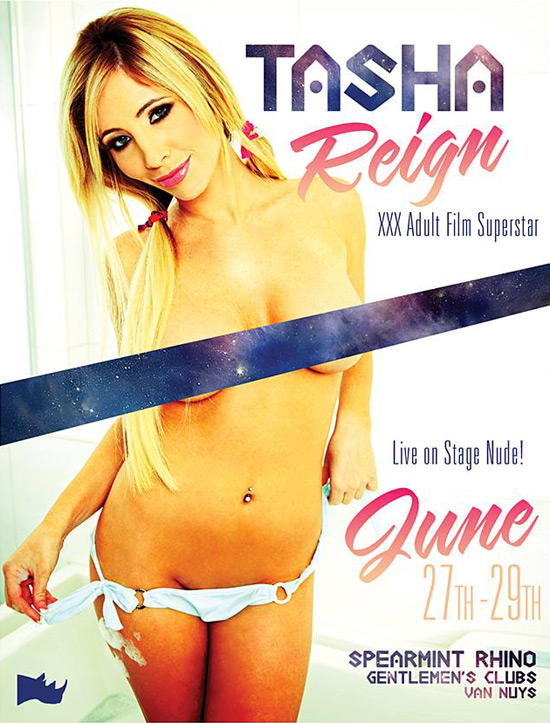 Superstar Tasha Reign is the feature attraction at Spearmint Rhino's Van Nuys, CA location June 27–29. Tasha will take the stage at 10:30pm on Thursday June 27th, and twice each evening at 11pm and 1am on Friday June 28th and Saturday June 29th. Between performances, she will be available for photographs, autographs, and private dances.
"I've danced at several Spearmint Rhinos, and they're all such amazing clubs, both for the guys as well as us girls," says Tasha. "So it's doubly awesome to be able to play and perform back in Southern California! I'm looking forward to turning up the heat and turning on all of my SoCal fans."
For more information about Tasha Reign's appearance at Spearmint Rhino Van Nuys, you can visit their website. Additional information can be found at the club's Facebook page and Twitter account.
"Tasha is always a hit," says a Spearmint Rhino representative. "Our patrons simply are mesmerized by her performances, and we're delighted she will be entertaining our patrons at our Van Nuys location."
Spearmint Rhino provides high-end adult entertainment for gentlemen, ladies, and couples. From its attentive management, unmatched interiors, superb entertainment and shows featuring adult film star performances on a regular basis, Spearmint Rhino's style and ambience are specifically catered to the surrounding area and customer base. As the world's leader in upscale adult entertainment, Spearmint Rhino's international locations offer an unparalleled experience for those 21 and over.
Named one of the "10 Porn Stars Who Could Be the Next Jenna Jameson" in alternative California paper LA Weekly, the dynamic and multi-dimensional Penthouse Pet and feature dancer hopes as many people as possible can come out to Spearmint Rhino to meet her.
Spearmint Rhino Van Nuys is located at 15004 Oxnard St, Van Nuys, CA. For more information, call 818.994.6453 or visit http://www.spearmintrhino.com/vannuys.html.