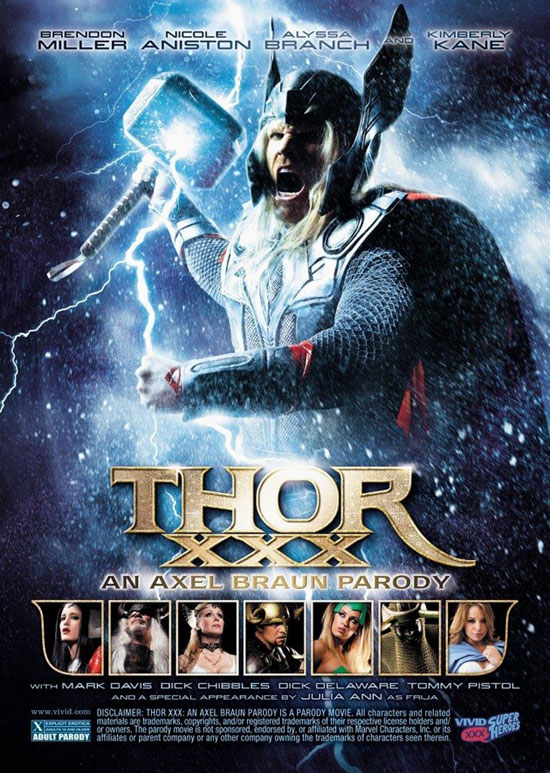 Three-time Director of the Year Axel Braun is back with his latest superhero parody, Thor XXX: An Axel Braun Parody, which is available online now at vivid.com and will hit stores nationwide on November 12th.
Braun has created a sexy parody thriller about the hammer-wielding Norse god that is sure to leave XXX comic fans fully satisfied on every possible level.
In the new adult spoof, award-winning actor Brendon Miller plays Thor, the role he originated in Braun's The Avengers XXX. A wounded Thor returns from a battle in Jotenheim, only to be betrayed by his half-brother, Loki. Their conflict leads to a series of epic adventures, fights and erotic scenes involving a cast of wildly colorful characters.
"Brendon was simply outstanding" says Braun of Miller's performance. "His level of commitment and his understanding of the character were on par with what he did as The Joker in The Dark Knight XXX. And Tommy Pistol's Loki is just pure evil awesomeness!"
With the mainstream release of Thor: The Dark World around the corner, pre-orders are already pouring in for the Thor XXX parody, making it another bona-fide Braun blockbuster.
Additional cast members include Julia Ann as Frija, Nicole Aniston as The Enchantress, Alyssa Branch as Jane Foster, Kimberly Kane as Sif, Mark Davis as Odin, Dick Chibbles as Heimdall, Dick Delaware as The Executioner and Tommy Pistol as Loki.
Sounds like a fun movie, with a super hot cast to boot. I can't wait to get my hands on Thor XXX!
>> Pre-order Thor XXX: An Axel Braun Parody from adultdvdempire.com.