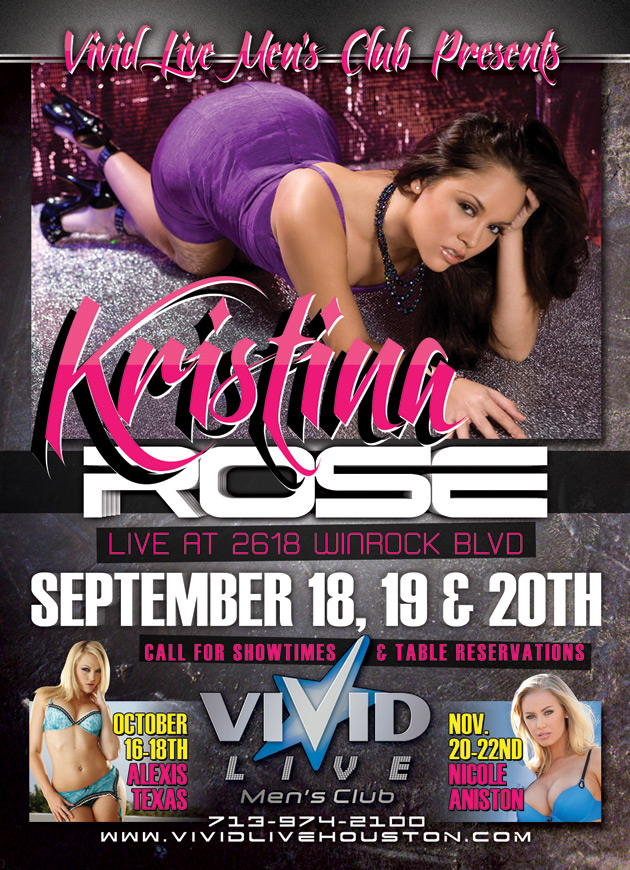 The petite, shapely and adorable brunette knockout Kristina Rose will perform at Vivid Live Men's Club on September 18-20th, which is located at 2618 Winrock Blvd, just off Westheimer Road, in Briargrove.
The 5'1″ Kristina is a native of Riverside, CA and was a model before she entered the adult film industry, where she became so popular that she won multiple awards from AVN and XRCO and appeared in over 490 movies.
"You can give someone all the awards in the world and it doesn't matter. At the end of the day it's the fans and people that matter. I love my fans. They helped me gain the success I have now," said Kristina.
Kristina will perform nightly at Vivid Live and she looks forward to meeting her Houston fans, posing for snapshots with them and signing autographs.
"I don't feel that men are intimidated by me," she notes. "Maybe I'm wrong, but I think it's part of my charm that I'm approachable."
Kristina will also be making a special appearance at The Erotic Ball being held in Houston at Club Limelight on Friday, September 19th. The event embraces all that is erotic with a classy and upscale twist.
Guests at Vivid Live enjoy a complimentary gourmet lunch/dinner from 11 am to 7 pm, Monday-Friday and a breakfast buffet from 2-4 am on Thursday, Friday and Saturday. With bar drinks, wine and domestic beer daily at $2.75 until 9 pm, the club offers the best Happy Hour in Houston.
The 12,000 sq/ft club sports a new state-of-the-art light show, the hottest DJs, lavish new furnishings, three stages on the main floor and another in the VIP bar. The multi-level club also features a Champagne Room, Private Dance Room and Sky boxes.
Kristina Rose is smoking hot, and I wish I was in town to see her perform. If you're around, make sure you check out her performance, you won't be disappointed!