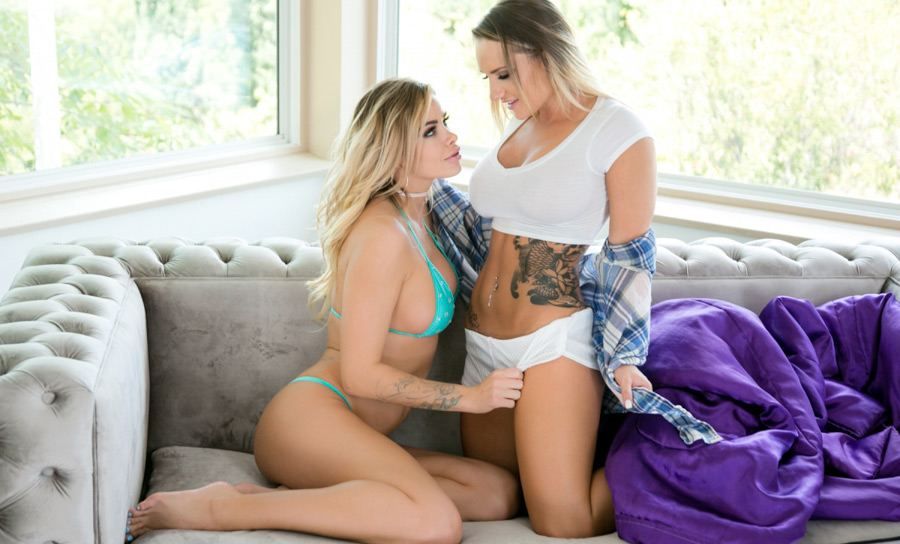 Cali Carter has a very special scene for her fans, appearing on screen with real life girlfriend Jessa Rhodes in Girlsway.com's Real Girlfriends: Jessa and Cali. I've been watching these two smokeshows for quite awhile now, and I never knew the two of them were a couple in real life!
Real life girlfriends Jessa Rhodes and Cali Carter describe how they started dating and what it's like being in a lesbian relationship while working in the porn industry. Even though they don't live in the same home, they feel like a married couple. They describe themselves as complete opposites, but when it comes to sexual chemistry, their opposites attract!
Once Jessa finishes her cam show, Cali gets her all to herself. Cali wastes no time tasting Jessa, and Jessa returns the love. These two beauties share everything, from anal toys to intense orgasms. The passion Cali feels for Jessa is real, and viewers get a glimpse into their personal sex life.
Cali commented, "I have to admit, having sex with my real girlfriend Jessa Rhodes on film was a little weird for me. I absolutely love having sex with her. We share so much passion, but when the camera was on I felt like a performer. It's hard to explain, lol. I've been able to watch the scene myself already and I must say we do look great together! It turned out great and our chemistry is all there."
These two have never looked hotter, so make sure you go and check out the scene at Girlsway!