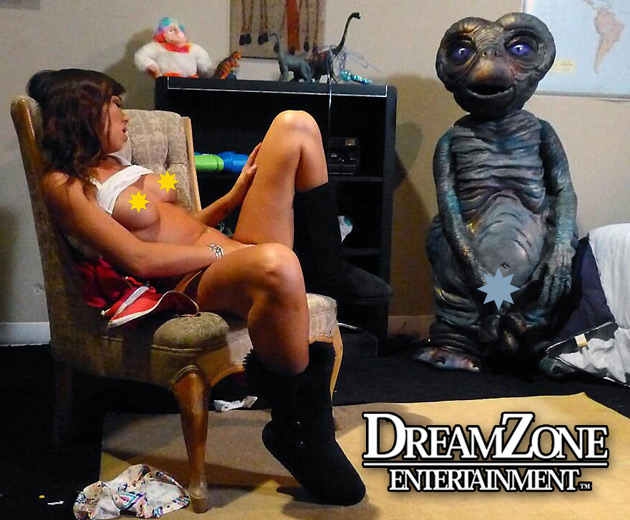 ET is the latest classic film to get the porn parody treatment, as DreamZone Entertainment has announced a fall release for their newest feature-length parody, ET XXX: A DreamZone Parody.
Yes, you heard it right! ET has gotten himself stranded on Earth again and this time he is going balls deep. From director, Jim Powers, comes ET XXX, a movie that will tug on your heartstrings and even harder on your cock. In the new DreamZone version of ET XXX, Capri Anderson plays the part of Elle, a human girl who befriends a lonely horny alien. A special suit was designed specifically for the DreamZone ET.
Other cast members include Veronica Radke, Jodi Taylor, Alana Evans, Logan Pierce, Tyler Nixon, Bradley Remington and Will Powers.
"We are all very excited to have Jim Powers directing a parody for us. Jim is respected in and dedicated to our industry, and to have him direct a title like ET XXX for us is an honor. We know that the fans will fall in love with our little alien, the same as they did 31 years ago. Yes, our ET does have sex. This fact was kept in mind when we had ET's suit designed specifically for this movie." – Adam Hasner, VP of DreamZone Entertainment
ET XXX: A DreamZone Parody is a 2-disc deluxe "collector's edition" that will also include friendly versions of some of DreamZone's classic parody adaptions, as well as bonus scenes, trailers and photo galleries.
We'll be posting more information as it becomes available!