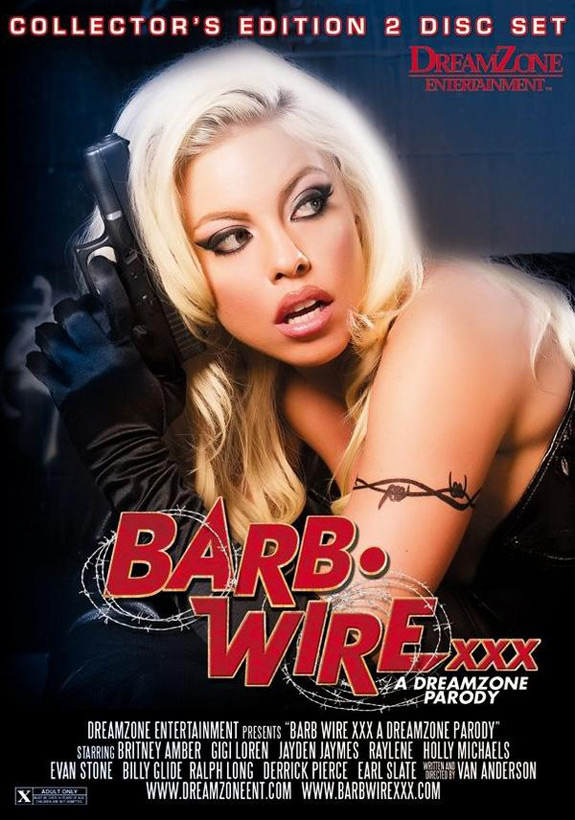 DreamZone Entertainment has announced a late-March release for their newest blockbuster feature-length parody, Barb Wire XXX: A DreamZone Parody. The porn satire of the 1996 Sci-Fi action-adventure film from the Dark Horse comic book series stars buxom blonde bombshell Britney Amber in the title-role.
The original film was widely panned by critics and nominated for a 'Golden Raspberry Award' in 1997 for 'Worst Picture', while it's star Pamela Anderson won one of the show's infamous trophies as the 'Worst New Star'. However, the movie also attracted many fans who relished its "campiness" and 'B-movie' qualities.
But the DreamZone version has what the mainstream production was missing – Hardcore sex.
In addition to Britney Amber, Barb Wire XXX features an all-star cast comprised of Jayden James, Evan Stone, Raylene, Gigi Loren, Holly Michaels, Billy Glide, Ralph Long, Derrick Pierce and Earl Slate.
Here's the synopsis for the movie:
The future is coming… and it's a dark, dystopian world filled with crime and chaos. A place where only the strong survive and everything is not as it appears. The government has been overthrown by a fascist regime and a second American Civil War has decimated the country. With the world now a dark and desolate place, it is an ideal landscape for a new type of hero. Enter bounty hunter and mercenary-for-hire Barb Wire, a leather-clad motorcycle mama who is willing to defend freedom — if the price is right. Her latest mission is to find a runaway prostitute and bring her home. But the recluse hooker and her parents aren't who they say they are. It's up to Barb to figure out who the good guys really are and save the day. And as far as the bad guys are concerned, they better not call her "babe".
And here's a SFW trailer for the movie:

"Of all the superheroes, Barb Wire is the best one and I'm having so much fun playing her," says Britney Amber. "She's so sexy and has the best outfits. The cast for the movie is amazing and we're very lucky to have Michael Bisco directing. Everyone is going to be blown away by this movie."
Barb Wire XXX: A DreamZone Parody will be released as a 2-disc deluxe "collector's edition" which will also include SFW "friendly" versions of some of DreamZone's classic parody adaptions, as well as Bonus Scenes, Trailers and Photo Galleries.
More details to come in the coming weeks..