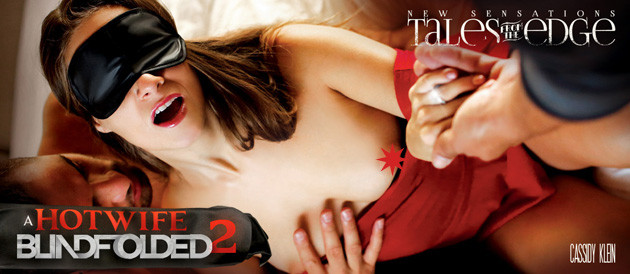 New Sensations has released A Hotwife Blindfolded 2. a new volume in its series depicting acts of sensory deprivation in hotwifing scenarios. Produced for their acclaimed Tales From the Edge series, the four story vignette is written and directed by Jacky St. James and features performances by cover girl Cassidy Klein (in her first boy/boy/girl scene), along with Valentina Nappi, Karla Kush, and Kalina Ryu.
Husbands are played by Tommy Pistol, Robby Echo, Tommy Gunn, and Anthony Rosano. Hotwife "bulls" are portrayed by Mick Blue, Toni Ribas, John Strong, and Damon Dice.
A Hotwife Blindfolded 2 has four scenes of happily married women taking lovers chosen by their husbands to fulfill their mutual wife-sharing fantasies. Blindfolded, the wives experience a heightened sense of anticipation and excitement at the hands of their new partners.
"Sensory deprivation elevates the sexual intensity of a scene and appeals to couples because it really emphasizes the trust between husband and wife," Jacky St. James said. "We were fortunate to have Cassidy Klein perform her first B/B/G and blindfold scenes in 'A Hotwife Blindfolded' because her reactions were totally authentic. We were witnessing someone's first experience with sensory deprivation. As a director, that was very exciting to capture."
Valentina Nappi plays a submissive wife to a dominant husband who knows keeping her in the dark while he and a mysterious stranger please her is the perfect way to set free her inhibitions.
Karla Kush indulges her doting husband's desire to see her with another man but keeps her own eyes bound during their three-way.
Aware Kalina Ryu's self-esteem is waning after years of marriage, her husband arranges a kinky encounter for them with a friend.
Cassidy Klein has only known the touch of her husband and he is eager to change that.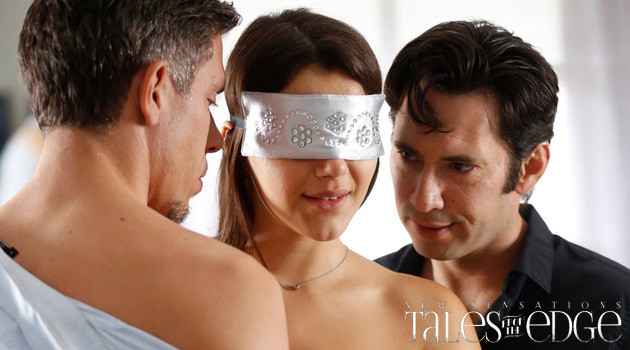 "Working for Jacky is always a pleasure. She makes everything fun and she's an all-around amazing person," Cassidy Klein said. "When she first asked me if I would do this scene, I was a little hesitant. I didn't want it to be another porn vid where a girl just gets viciously fucked by two guys with no regards. My scene for Jacky was very different. In my scene, my husband knows that I've only been sexual with one person my whole life, him. So he proposes that I have more sexual experiences because what makes me happy makes him happy. This scene was all about my character experiencing another man and two men at once, all while being blindfolded!"
"Along with my character, this was a first time experience for me too," Klein continued. "First B/B/G and first time being blindfolded while having sex. And to anyone asking what it was like, all I have to say is, go try it! Losing one of your senses during sex is kind of amazing. Especially your sight, it's kinky and fun and you'll literally never know what's going to happen."
I'll admit, I was a little unsure about the whole hotwifing genre, but Jacky St. James makes it a sensual affair that's incredibly hot to watch. This is one title you're definitely going to want to check out!
>> Purchase your copy of A Hotwife Blindfolded 2 today!