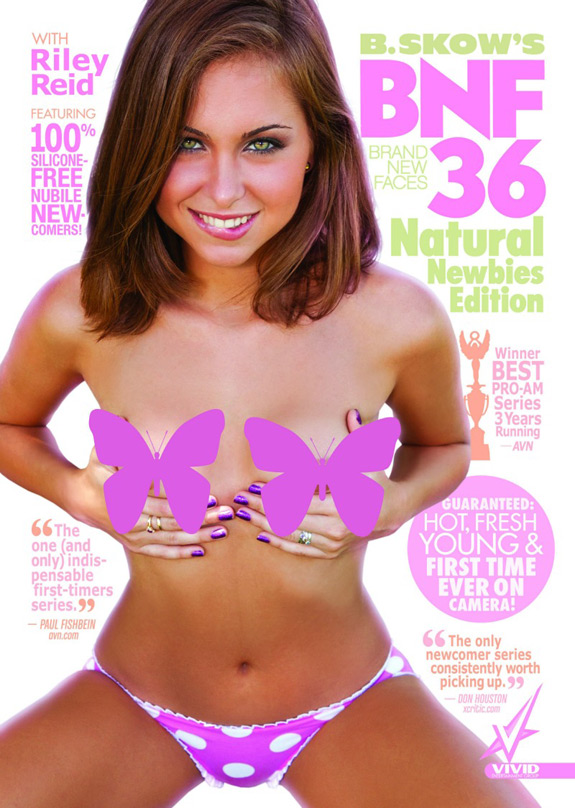 Vivid Entertainment's latest movie Brand New Faces 36 – Natural Newbies Edition hits the shelves nationwide tomorrow, but we were able to get our hands on an advanced copy. We're here to tell you what's hot and what's not about B. Skow's latest movie in the series.
Director B. Skow has helmed all 36 of the Brand New Faces movies, which are the only adult movies to offer an absolute guarantee – That it is the first time on film for the actresses or you get your money back!
Brand New Faces 36 features first timer 21-year old Riley Reid, (shown above) plus Izzi Ryder, Parker Page, Joslin Jay and Talia Palmer.
Natural Newbies Edition means just that – These girls are all-natural, and their assets are on the smaller side. If you're into small tits, you'll like BNF 36. If not, look elsewhere. 🙂
Enough talking, let's get to the movie!
Scene 1: Riley Reid & Tommy Pistol
Each scene starts out with an intro that lets the viewer get to know the performer. In Riley's case, there's 18-minutes worth to fast-forward past before we get to the real action. The action is pretty standard fare: Blowjob, doggystyle (my favorite part of the scene), cowgirl, brief spooning, and finally a nice cumshot at the end that she REALLY enjoyed.
Riley's super cute, but I will admit that I was a little disappointed when she first turned around and I saw that huge Kanji tattoo running down the full length of her spine.. The meaning of Riley Reid's back tattoo is rather interesting though.
Scene 2: Izzi Ryder & Xander Corvus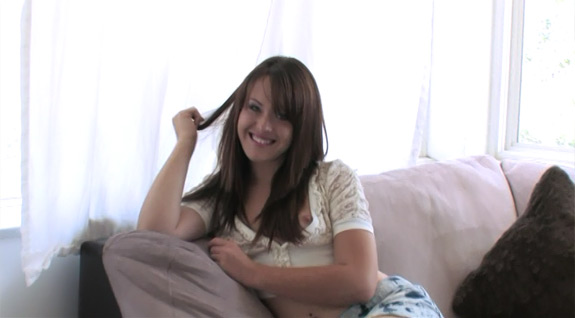 Izzi's another cutie, reminding me of Erin from The Office for some reason. She reveals in her interview that she's a dirty girl at heart, which she later proved in the scene.
The scene starts with some masturbation, before moving onto a blowjob. After that, she gets on top of the guy and rides his cock like an absolute pro! (I'm getting hard just thinking about it) After that, Xander gets on top and gives her some deep dicking, before moving into a spooning position. Finally, he mounts her doggystyle, with Izzi shaking her ass like a woman possessed. If you're into doggy, it's pretty epic! Xander blows his load on her face, and the scene ends.
Scene 3: Parker Page & Mr Pete
Try as I might, I just couldn't get into this scene whatsoever. Parker Page needs to go back to her natural hair color, because she can't pull off the blond look – Especially with those DARK eyebrows. Yeah, I shouldn't be paying attention to stuff like that, but it's all I could focus on throughout this scene.
If you're a fan of rough sex, then this might be the scene for you. It's not quite BDSM, but Mr Pete does get pretty rough with her, from tit slapping to ass spanking that turns her rear BRIGHT red by the end of the scene. As far as the sex goes, it's pretty standard: BJ, spooning, missionary, doggy, cumshot.
Scene 4: Joslin Jay & James Deen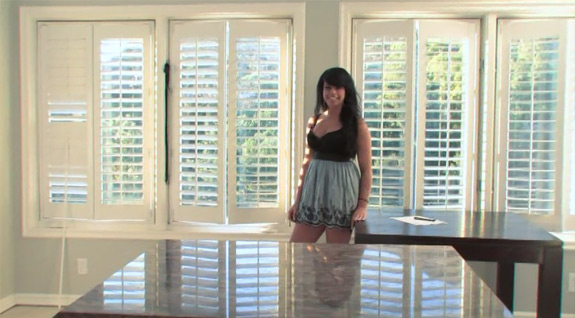 Joslin Jay is a Middle Eastern cutie who stands out from the rest of the girls in this film. Why? She's not a stick figure, she's actually got a little meat on her bones. I personally love a little cushion for the pushing, so I really enjoyed this scene! (And her nice fat ass is pretty amazing when she's riding cowgirl) She's got a spunky attitude that carries throughout the scene, and I really enjoyed this scene in the movie.
Scene 5: Talia Palmer & Jerry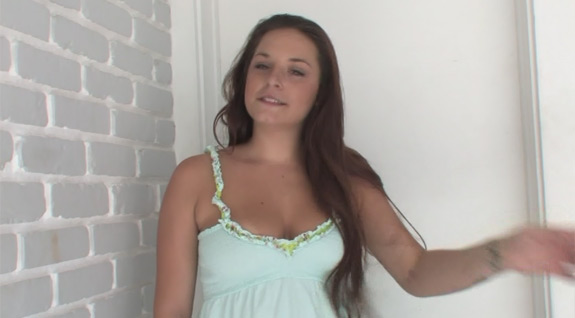 I thought Talia was the cutest girl on this disc, with great natural looks and an amazing body. She's also the only girl in the movie sporting any pubic hair (a neat landing strip), which was a welcomed change in today's world of hairless pussies. Unfortunately, she's got a ton of tattoos in really odd and distracting locations which are hard to miss..
Thankfully, she makes up for the bad taste in tattoos with a sizzling scene, going from missionairy to a BJ, then to cowgirl, followed by doggy, and finishing things off with a nice cumshot. It's a great scene to end the movie, and one that I'm sure to replay more than a few times in the future.
Overall, it's a great movie. If you like what you've read so far, I encourage you to check it out!
>> Purchase Brand New Faces 36 from adultdvdempire.com.