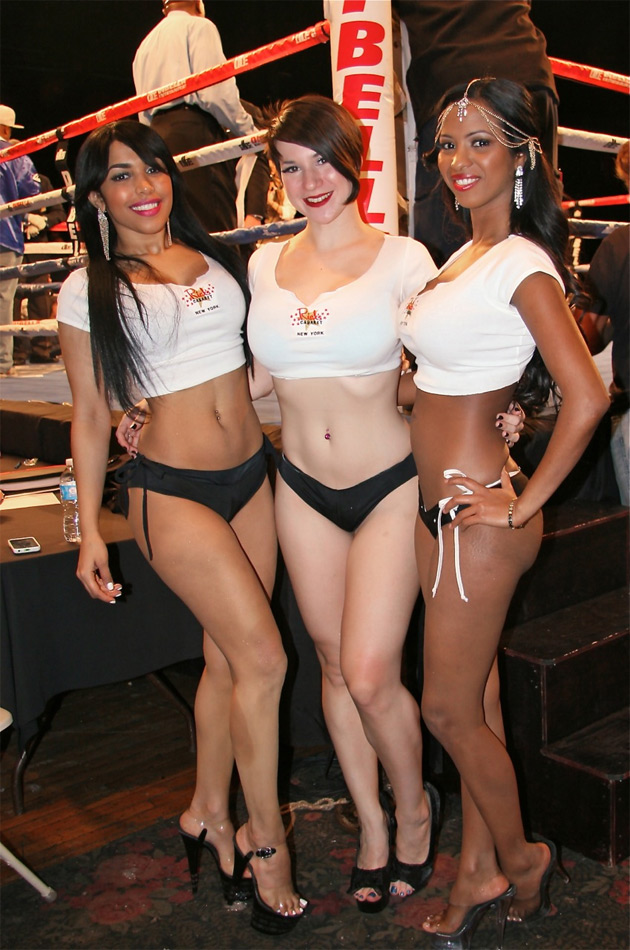 The final ever boxing event at the famed Roseland Ballroom in Manhattan featured a nine bout "Broadway Boxing" card promoted by DiBella Entertainment, and featured bikini-clad Rick's Cabaret New York Girls as the round card girls.
"Roseland is being torn down to build a high-rise," explained Rick's Cabaret Girl Diana. "The promoter put on awesome boxing matches, and it was an honor to be part of it!"
Rick's Cabaret Girl Camille purred, "I love boxing and there was something special about being in the old Roseland building, but DiBella Entertainment puts on the greatest boxing cards in all sorts of arenas. I can't wait for the next show."
"Celebrities like Fifty Cent, Rosie Perez, WWE's Bushwacker Luke Williams, and so many others were at the show," said Rick's Cabaret Girl Melanie. "Everyone had a great time, and I must admit, I loved it when the packed crowd whistled at me when I hit the ring in my sexy outfit!"
Rick's Cabaret New York is well known for its beautiful showgirls, luxurious setting, gourmet restaurant, and warm hospitality. It is a favorite with businessmen, celebrities, tourists, and pro athletes.