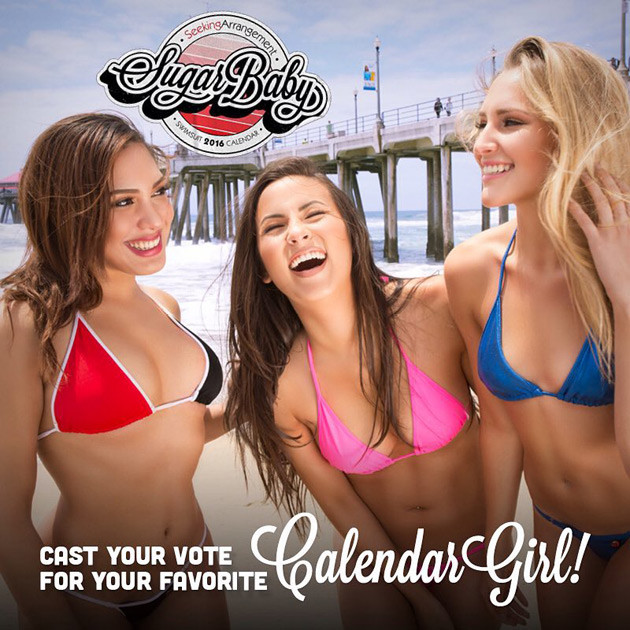 As the Miss USA Pageant controversy wraps, there's a new swimwear competition that's gearing up to make headlines. 2015 marks the first annual Sugar Baby of the Year contest, where a dozen college age women don bikinis and compete for votes. The most popular woman will earn her picture on the cover of the Sugar Baby Swimsuit Calendar, along with the enviable Sugar Baby of the Year title.
The Sugar Baby of The Year contest features a dozen young women from around the United States who date wealthy, older men otherwise known as Sugar Daddies, and they even showcases their profiles for the public. Created by famed dating site SeekingArrangement.com, the lucky winner will become the face of a prominent subculture of sugar, representing the 3.8 million women in the lifestyle.
"Some people might wonder how the candidates can be so open about being Sugar Babies," says Founder and CEO Brandon Wade. "The community continues to grown exponentially, and the trend has become as much a part of popular culture as online dating. Miss Sugar Baby USA isn't just beautiful, and she can be any woman: your neighbor, teacher, or even the girl next door."
Dakota, the southern belle from New Orleans has my vote (and if I ever become rich, she'll probably have my wallet too).. You can see her and the rest of the contestants in the calendar shoot video below. She's trailing in the votes right now, so let's give her a boost and see if she can't become Miss Sugar Baby USA!
Admirers can support their favorite girl by voting on the official page. But don't delay, as the winner will be crowned on August 17th.