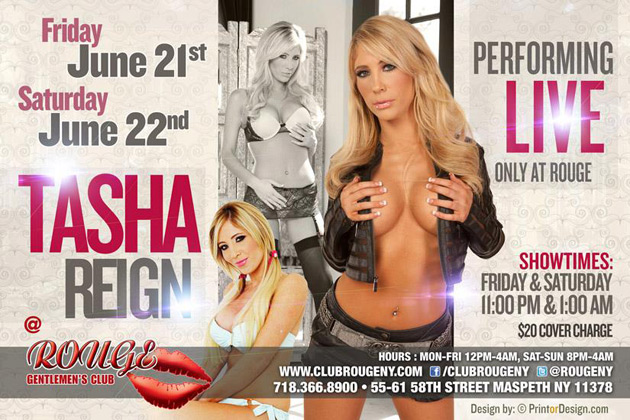 Sexy blonde bombshell Tasha Reign will be feature dancing this weekend at Maspeth, New York's Rouge Gentlemen's Club on Friday, June 21st and Saturday, June 22nd. Tasha will take the stage twice each evening at 11pm and 1am. Between performances, she will be available for photographs, autographs, and private dances.
"Rouge is a great club," says Tasha. "It's a fun space with so many beautiful girls! I absolutely love visiting New York, and I'm looking forward to heating up the night with my favorite fans!"
For more information about Tasha Reign's appearance at Rouge Gentlemen's Club can be found at the club's Facebook page and Twitter account.
"Tasha is a dynamic dancer," says a Rouge representative. "We're delighted she will be feature dancing here; we know our patrons are going to be thoroughly entertained by her both on and off the stage."
Rouge Gentlemen's Club, located just 20 minutes east of Manhattan in Maspeth / Queens, NY, is easily accessible via the Long Island Expressway. Open 7 days a week with three main stripper pole areas, the club boasts multiple dancers to entertain guests at all times, with the sexiest adult entertainers around regardless of the time of day or night. Rouge also offers large-screen TVs, a large bar with multiple drink specials, an extensive menu, and free admission before 11pm on Thursdays, Fridays, and Saturdays. After 11pm, there is a $20 cover charge. With the sexiest girls around, a friendly atmosphere and great drinks, Rouge is a premiere NY strip club.
Named one of the "10 Porn Stars Who Could Be the Next Jenna Jameson" by LA Weekly, the dynamic and multi-dimensional Penthouse Pet and feature dancer hopes as many people as possible can come out to Rogue Gentlemen's Club to meet her.
Rouge Gentlemen's Club is located at 55-61 58th St, Maspeth, NY. For more information, call 718.366.8900 or visit http://www.clubrougeny.com/.