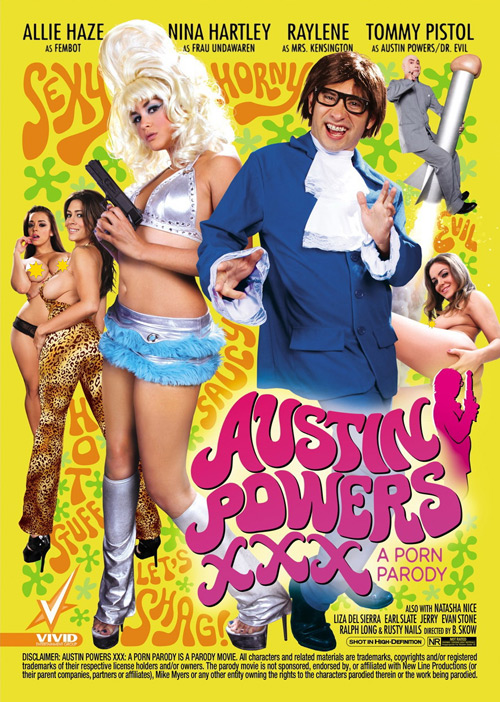 The shaggiest porn comedy ever, Austin Powers XXX: A Porn Parody, has just been released by Vivid Entertainment and can be streamed online at Vivid.com. The title will be in stores nationwide on Feb. 25th.
The three original mainstream Austin Powers movies premiered between 1997 and 2002. They parodied the James Bond films and have remained comedic classics. The accent in the Vivid parody of a parody is definitely on the shaggier, erotic and, of course, funnier side of Powers.
Directed by B. Skow, the movie offers a comical tale with sizzling erotic scenes. The movie stars Allie Haze as a sexy model Fembot, Nina Hartley as Frau Undawaren, Raylene as Mrs. Vanessa Kensington, Tommy Pistol in the dual roles of Austin Powers/Dr. Evil, Jerry as Leopold Horkenfish and Evan Stone as Fembot.
At the height of the swinging sixties, Dr. Evil plans to destroy the world. There's only one person who can stop him, the international man of mystery himself, Austin Powers. After Dr. Evil tries to have Austin assassinated, the plan backfires and Evil escapes into space. Austin has himself cryogenically frozen to await Evil's return. Thirty years later, Evil comes back to earth, Austin is unfrozen, and with the help of comely you agent Vanessa Kensington, (and four facials and bangin' four-way), Powers sets about trying to rid the world of Evil…Dr.Evil…yet again.
The movie sounds pretty shagadelic, and I'll be checking this one out for sure. Yeah baby!
DISCLAIMER: AUSTIN POWERS XXX: A PORN PARODY IS A PARODY MOVIE. The parody movie is not sponsored, endorsed by, or affiliated with New Line Productions (or their parent companies, partners or affiliates), Mike Myers or any other entity owning the rights to the characters parodied therein or the work being parodied.