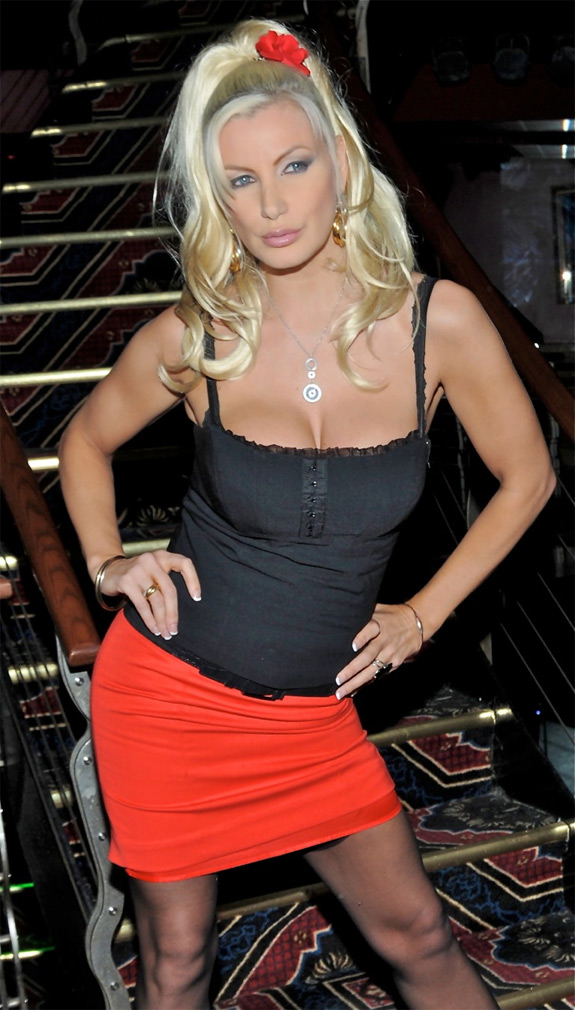 Adult Hall of Fame porn star Brittany Andrews had lunch at Rick's Cabaret New York. The busty blonde arrived with two male friends and informed management that it was one of the guys 40th birthday.
She said "Do you believe his wife didn't even bake him a cake? Why even bother getting married? That's why you call up your porn star friend to take you out for your birthday."
They dined from the "Businessmen's Special Lunch" menu choosing the Sliced Steak, Shrimp Penne, and Grilled Salmon entrees. They had several rounds of shots and popped a bottle of champagne.
For dessert–tons of strippers danced for the birthday boy, one at a time and then two at a time. Then Brittany put on a show: spanking a very willing Rick's Cabaret Girl while everyone watched. She also had two girls dance for each other while all the businessmen at the nearby tables applauded.
Due to popular demand, Brittany then flashed her large boobs to everyone and had more girls dance for the birthday boy.
Rick's Cabaret Girl Justine said, "Wow. Brittany Andrews is super hot and she was so generous to all the girls. She tipped better than most guys do! She's my new favorite porn star. I'm going to watch her films on my computer as soon as I get home."