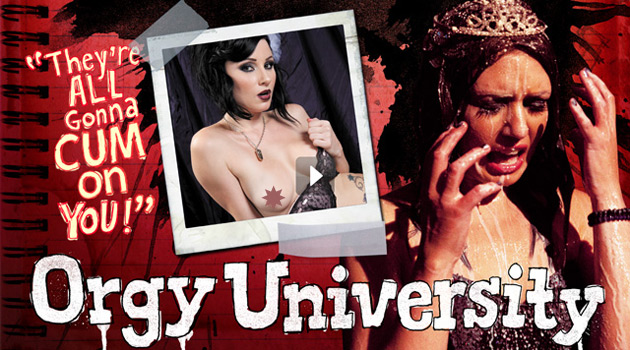 In Vivid Entertainment's latest film Orgy University, viewers are transported to the strange and distorted world of college student Carrie (Sarah Shevon), who's possessed with bizarre powers.
It's the week of the big dance, and everyone is pairing up for the night — even Carrie, who's been the butt of jokes and bullying by the mean coeds. But tonight she's got a date with the most popular boy at the college and she'll be queen of the dance. Carrie's looking forward either to an event that is a dream come true…or a nightmare. For everyone else, the evening becomes an erotic experience beyond comprehension.
Additional cast members include Dana DeArmond, Skin Diamond, Ashli Orion, Veruca James, Aiden Starr, James Deen, Damon James, Brian Street Team, Mr. Pete, Jon Jon, Tommy Pistol, Ash Hollywood, Bailey Blue, Nate Liquor, Annika Amour and Jinx Piggy.
Orgy University was directed by Kimberly Kane, who also plays Carrie's teacher in the movie. She describes the movie as "a volatile mix of sexual tension with fear-induced tension," and says she "went over to the dark side for this movie." Doesn't sound like your typical porn flick, not by a long shot!
To learn more, we conducted an interview with award-winning director/actress/photographer Kimberly Kane.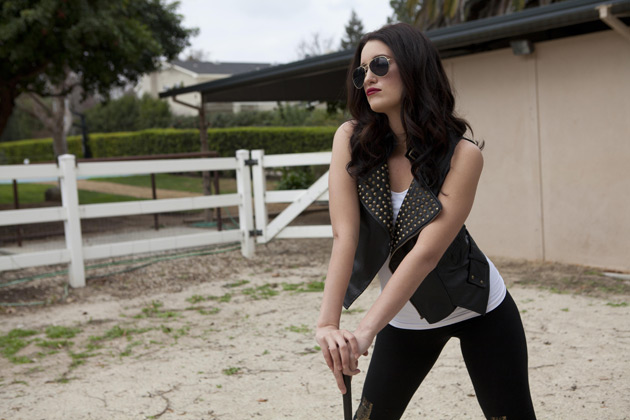 TC: You've been performing since 2003, correct?
KK: Yes, in late 2003 I shot one or two scenes and started full time in 2004.
TC: How did you transition from performer to director?
I got an opportunity to direct and I took it. I was really nervous about it because I didn't want to make just another porno, I wanted to make something really cool and I did. My first movie got a 5A review from AVN Magazine, which is their highest rating.
TC: How many movies have you directed?
I think I've directed 12 movies. I've also directed online content as well.
TC: Do you prefer to be behind the camera or in front of it? Why?
I like both jobs for different reasons.
TC: What kind of movies do you like to make, and what separates a Kimberly Kane movie from others?
I have a pretty defined style, you can usually tell my movies apart from other directors.
TC: How do you go about casting your films?
I mostly cast people I know, who are good performers/actors and pairing is important as well.
TC: Tell our readers what they can expect from Orgy University.
Orgy University is a dark comedy very loosely based on parts of the movie Carrie. It follows the lead character from Monday-Friday until the big school dance.
Thanks to Kimberly Kane for taking time out of her busy schedule to talk with us, and be sure to pick up Orgy University, which has been released online at vivid.com, and will be in stores nationwide on April 9th.

** BUT WAIT, THERE'S MORE **
How would you like to win a free copy of Orgy University? Vivid has given us 5 copies to give away to our readers!
Want to win one of these videos? Simply e-mail us and tell us your favorite Kimberly Kane movie. We'll pick 5 winners at random on Tuesday April 9th. This giveaway is open only to those 18-years-of-age and older.
Good luck!