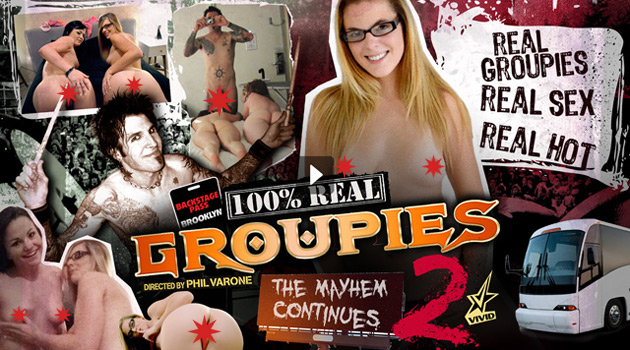 Vivid Entertainment has just released 100% Real Groupies 2: The Mayhem Continues online at Vivid.com. This is the second installment in the wildly popular Groupies series created by former Skid Row and current Saigon Kick drummer Phil Varone, who now also directs and performs in the series.
Varone, who estimates he has bedded over 3,000 women in his lifetime, claims that as opportunity continues to present itself, the numbers will grow. It's safe to say he will be adding to a new grand total as the Groupies series continues to grow.
100% Real Groupies 2: The Mayhem Continues follows Varone as he continues on a Saigon Kick tour of the U.S. He plays drums and gives a bonus all-access pass to a secret world of Rock 'n Roll in which authentic groupies enjoy real sex with rockers as often as possible. From backstage to hotel rooms, this uncensored series proves that anything you've seen or heard about this life is not only true, but almost unbelievable!
"The best part about this series is each movie gets better and better by just pressing the record button. It's always a good thing when there is just too much good footage and fun recorded. The Mayhem Continues is the perfect title for part 2."
But wait, there's more!
We've teamed up with Vivid to give away 5 copies of 100% Real Groupies 2 on DVD! To enter the giveaway, simply e-mail us and tell us why you deserve to win a copy. We'll pick 5 winners at random on May 5th.
Please note, this giveaway is open only to US residents that are 18-years-of-age and older.
Good luck!