The Colombian sex scandal embroiling the Secret Service has stirred fond memories of my own risque adventures south of the border. Of course, as an unmarried guy not responsible for protecting the leader of the free world, my dalliances with legal prostitutes in Latin America have raised few eyebrows. I thought I'd share with you a chapter from my book, Around The World In 80 Lays, detailing my experiences in Central American paradise Costa Rica.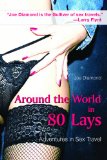 (For Part 1 of this article, click here)
About half a mile away from the Del Rey was Bar Idem, another must-see mongering spot in San Jose. Idem had a "school dance" atmosphere—guys on one side, girls on the other.
I initially went to Idem to take photos of its girls for my Karma article. Idem wasn't upscale, but it was comfortable, like a local pub, but with private play rooms in the back. There were about twenty girls in the bar the day I visited, some of whom were quite stunning. The manager, Roberto, was a sixty-two-year-old avuncular man with glasses and a well-groomed mustache. He couldn't have been nicer about helping me find girls who were willing to appear in the magazine. As I've pointed out elsewhere in this book, this isn't always an easy task, as many prostitutes aren't eager for publicity.
After I finished the photo shoot, I was in a quandary. It was late afternoon and I wasn't particularly horny. Was this a sign of growing old, that I wasn't instantly aroused around stunning women? Or was I just jaded? Or maybe I was worried about how much money I'd already spent in Costa Rica. Whatever the reason, because Roberto and the girls had been so accommodating, it would have felt disrespectful to leave without getting a session.
I decided to go with Marina, a lovely Nicaraguan. "Does it ever seem unnatural to be intimate with men you just met?" I asked her. "Yes and no," she said. "This is how I survive for now, so I have to keep my mind comfortable with it. Most of the men who come here are very nice, so that's good."
"What about men you're not attracted to?" I asked.
"Everyone has something nice," she said. "Some have it outside, some inside." Marina saw part of her job as focusing on that nice quality so she "can be passionate and make him feel passion, too." It's acting, she added, "but it's not lying. Most of the men understand that this is fantasy."
If Marina radiated serenity and poise, then Diana, a prostitute I met at the Blue Marlin, was her distorted doppelgänger. Incoherent and barely able to stand, she introduced herself by groping me. But her party-girl persona had a whiff of desperation. Sure enough, she told me that she hadn't made money the last two nights. I felt more protective toward her then amorous. I stroked her face, wanting to reassure her that everything would work out. But her expression turned glum, as if she'd read it as an indication that I wasn't interested in breaking her unlucky streak.
"You're very pretty," I said, hoping to lift her sprits. "There's plenty of guys here who'll go crazy for you."
It was surreal, trying to inspire a prostitute to forge ahead and find clients. I felt slimy and sympathetic in the same breath. I would have rather helped her figure out other things she could do with her life. Without the kind of inner toughness that Marina seemed to have, what chances did Diana have of surviving the sex trade intact? (One of my dreams is to set up a charity for prostitutes in Costa Rica, Brazil, and other places I've gone. There are clearly girls who don't belong in the trade. The quicker they can get out of it, the better.)
But Diana was in no frame of mind for vocational advice. I gave her $10 so she could at least take a cab home. If I were truly a nice guy, I probably would have given her more.
It's easy, however, to avoid such introspection in a town like San Jose.
Carmela, one of the regulars at the Sportsmen's Lodge, was luscious. She had silky brown hair with blonde streaks, and giant natural breasts. Unlike other girls at the hotel, she'd quash all my attempts to make small talk with her. One-syllable utterances or a bored nod were the best I could hope for before she'd turn back to her friends. This bitchy quality, of course, only made her sexier to me. I wanted to nail her in the same way I wanted to nail every hot girl who seemed out of my league. Call it my Revenge of the Nerds fantasy.
Carmela's friend Marta wasn't as sexy, but she was friendlier. Someone had mentioned that the two girls were lovers, so one night I asked Marta if it was true. "Very much," she said.
All right. I'd found my threesome for the trip.
We worked out a deal and went to my room. I'd finally gotten hold of some Cialis, so I was feeling quite confident. I had the girls go at each other first. Their affection for each other seemed genuine. When I couldn't take being a bystander anymore, I went after Carmela in a frenzy, pumping her as hard as I could. Sweat gleamed on her face.
I knew that all of Carmela's reactions with me were incidental, that I meant absolutely nothing to her. But in the heat of the moment she seemed quite transported. I kept hacking away at her, forcing myself not to look over at Marta. I had this insane idea that I could mesmerize Carmela with my incredible willpower and concentration. I'd heard that if you look deeply enough into a girl's eyes, and mimic the appearance of being totally in love with her, that she'll start to give way and fall for you right back. Of course, I had no real idea what I was doing. God only knows what I must have looked like to Carmela. But she kept the rhythm and was breathing heavy, which was nice. My fantasy was that once I pulled out, she'd pull me right back in, as if she couldn't get enough of me. It had happened like that so often in Rio, where the working girls seemed to completely fall for me. Unfortunately, Carmela wasn't prepared to take the fantasy that far.
Meanwhile, thanks to the Cialis, I had little desire to come. But the forty-minute session was growing short. I felt that the courteous thing to do was to fuck Marta, also. Though many working girls are just with you for the money, you still hold a part of their self-esteem in your hands, and if you don't at least go through the motions, it can hurt.
Once I started with Marta, Carmela seemed to fade out entirely, just clock-watching. She had no interest in what was going on, least of all what I was up to. My fantasy about winning her heart was a big bust. (As big as Carmela's, come to think of it.) She left no doubt when I tried to kiss her goodbye on the lips, turning her cheek to me.
It was no Girlfriend Experience, but it was still a nice encounter. It had satisfied at least one of the purposes of pay-for-play: sex with a gorgeous girl that you ordinarily couldn't get anywhere near. True, ultimately it means nothing. But in my mildly nihilistic view, everything ultimately means nothing. We put great emphasis on family, friends, and health. These things are crucial, but you can't take them with you. So fucking a gorgeous girl who couldn't give two shits about you is just as significant (or insignificant, depending on how you look at it). Fucking girls like Carmela is like a waking wet dream. When it's over, the only tangible thing left is bodily fluid. It's your memory of it—however you choose to spin it—that counts.
I might have had a chance at something more lasting with Allie, who was probably the hotel's only female guest at the time. I first saw her nibbling on a Danish at the free breakfast buffet, hours after all the working girls had left the lodge. A pretty Asian, Allie certainly didn't fit the profile of any other prostitute I'd seen in San Jose. But there she was, most likely hoping to generate some early- morning revenue.
"Interesting place for breakfast," I said.
She mumbled something with her mouth full. "Sorry," she said. "No problem," I replied. "What brings you here so early?"
"I was with friends that live in another part of the country," she said. "I'm flying home tomorrow. They said this place is close to the airport."
Apparently, she didn't know that the Sportsmen's Lodge—which otherwise was a perfectly nice place, well-maintained and safe—was a male-female hunting ground of sorts.
"Where are you from?" I asked. "New York," she said.
"Where do you live in New York?" I asked. I almost spit out my scrambled eggs when she said the name of her street; it was four blocks from my house. Wouldn't it be something, I thought, to come all this way to party with sex pros, only to hit it off with a regular girl from my backyard?
That night at the bar, I saw how truly clueless Allie was about the local sex trade. She glanced at a table of working girls. "They're so pretty," she said. "I wonder where they're from."
"You've got it a bit backwards," I said. "They're the reason that men come to San Jose." She seemed a bit stunned, but also fascinated, as I filled her in on the spicier aspects of life in this tropical paradise.
Allie and I bumped into each other the next day at the airport. I took it as cosmic encouragement to ask for her number. We went out for drinks in Manhattan that weekend. She wore a tight red dress and looked as scrumptious as any of the ladies in San Jose. When she invited me back to her house for a snack, I was sure that some of San Jose's magic had accompanied me home. Even when she spurned my advances, it didn't shake my confidence that Allie and I would end up, at minimum, having sex. It was only when she didn't return my calls, and after a month had passed since I'd so much as touched a girl, that I realized that Brooklyn wasn't Costa Rica. Or Brazil.
How could it be?
This guest post brought to you courtesy of Joe Diamond