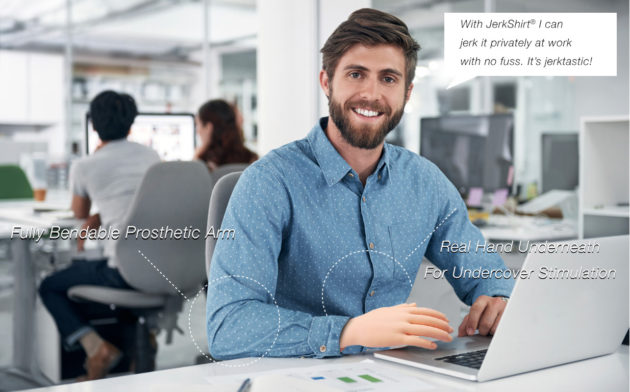 Today, CamSoda introduced The JerkShirt, a revolutionary invention designed to let users enjoy undercover masturbatory pleasure. So how does it work? You simply don The JerkShirt, a dress shirt outfitted with a fully functional prosthetic arm. Your real hand is hidden underneath the shirt, allowing for undercover stimulation anytime, anywhere without the fear of getting caught in the act.
And with their splash guard, there is no mess or worry to clean up. It works like any other shirt.. When you're done, simply put it in the washer and continue to use it again and again!
Check out The JerkShirt in action:

Weird, right? If you want one (assuming this is real), you can place a pre-order for just $49.99. And when you place your order, you're able to select between light, beige, tan and dark tone options for the fully bendable prosthetic arm, ensuring a perfect match to your skin tone.
So get The JerkShirt today, and get ready to enjoy what you do without having to hide in shame.