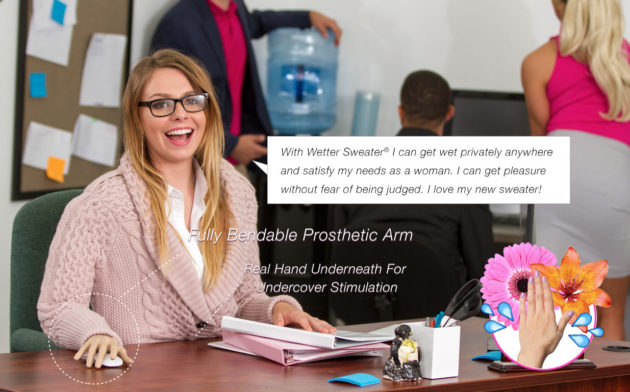 Awhile back, the geniuses at CamSoda introduced the JerkShirt, which allowed guys to wack off in plain sight without anyone being the wiser. And women everywhere were all like, "Hey, what about us?!"
Well fear not ladies, because CamSoda has got you covered too with The Wetter Sweater, which features a cozy sweater with a fully functional prosthetic arm which poses as a decoy for one's real arm, which can be used to inconspicuously "enjoy" oneself anytime, anywhere.
You know, because sometimes you'll see a hot guy in public and need to tap the tuna right then and there..
The Wetter Sweater is available in an assortment of colors (pink, blue, wine, camel and black) and ranges in size from small to double extra-large. The prosthetic arm component is available in light, beige, tan and dark skin tones. Consumers can select between nail colors (pretty in pink, raspberry wine, sugar plum and gold glitter) for the prosthetic arm as well. If you want one, you can place a pre-order for just $49.99.