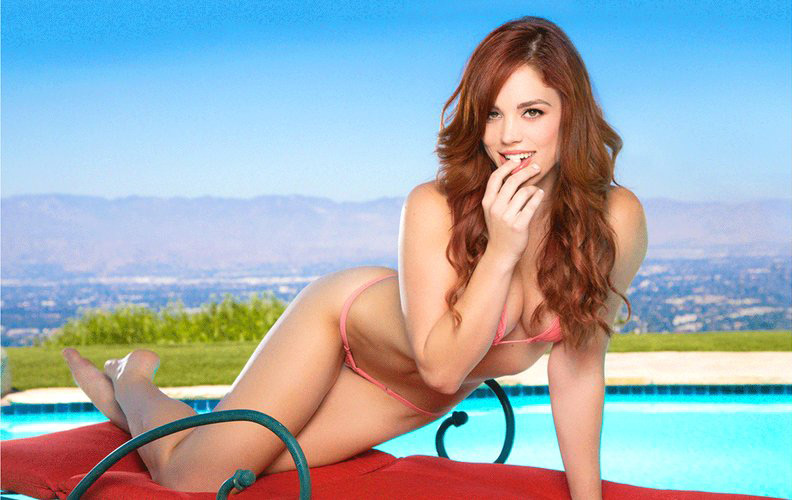 If you're a fan of cam model Molly Stewart, prepare to get excited, because Twistys has just signed her to an exclusive contract. For the first time ever, the statuesque redhead will be featured in girl-girl content on a premium porn site, and you know the action is going to be HOT HOT HOT!
Stewart got her start in the adult industry in late 2012 when she started camming. Through that, Molly has managed to build a large fan base, land nude modelling gigs and producing sizzling amateur content.
So how she make the jump from camming to the big leagues? "I did a lot of research when I was looking to break into professional production and Twistys was the clear standout. They have some of the hottest girls, high production values and, upon contacting them, I found they have a really professional, caring team that values my opinion. This is a really good place for me to start my professional girl-girl career," Molly Stewart said about her decision to sign with Twistys.
"We had known about Molly for a while. What really set her apart from the rest was her entrepreneurial spirit. She's very smart with how she handles herself as a brand. So, when we found out that she was open to shooting lesbian scenes with a premium adult brand, we knew we had to make her an exclusive offer," said Twistys Director of Production Ryan Hogan.
In this exclusive interview, Twistys sat down with Molly to ask her about her debut in the adult industry, what goals she has, and who she's looking forward to performing with:

Molly's first lesbian scene with Twistys will be released in October. The scene is titled Blowing Bubbles Not Boys and it features Molly Stewart and up-and-cummer Izzy Lush. It should be a scorcher, and I for one can't wait to check it out.
And to her legion of fans, don't think that her decision to join Twistys will affect her ability to cam and produce her own content. Molly says not to worry: "Shooting professional porn won't affect my cam schedule. It's something I'm very dedicated to and I think with my schedule as flexible as it is, I'll still be able to give my fans what they want while hopefully creating things new fans will be able to enjoy too."
Congrats to Molly Stewart, and we're really looking forward to seeing what the future holds in store for you!